ICYNENE HEALTHIER, QUIETER, MORE ENERGY EFFICIENT - Trademark Details
Status: 710 - Cancelled - Section 8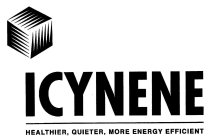 Registration Number
3769835
Word Mark
ICYNENE HEALTHIER, QUIETER, MORE ENERGY EFFICIENT
Status
710 - Cancelled - Section 8
Registration Number
3769835
Registration Date
2010-04-06
Mark Drawing
3000 - Illustration: Drawing or design which also includes word(s)/ letter(s)/number(s) Typeset
Design Searches
261701, 261705, 261713, 261904 - Straight line(s), band(s) or bar(s). Horizontal line(s), band(s) or bar(s). Letters or words underlined and/or overlined by one or more strokes or lines. Cubes.
Published for Opposition Date
2010-01-19
Law Office Assigned Location Code
L30
Employee Name
GILBERT, REBECCA L
Statements
Indication of Colors claimed
Color is not claimed as a feature of the mark.
Description of Mark
The mark consists of the words "ICYNENE" and the words "HEALTHIER, QUIETER, MORE ENERGY EFFICIENT" separated by a line and with a cube logo on the top left hand corner.
Goods and Services
Chemicals for use in the manufacture of insulation material and in-situ foam insulation
Goods and Services
Power-operated spray guns for spraying in-situ foam insulation, sold empty, and dealer support units, namely, compressed air pump machines for demonstrating differences in air seals in cellulose, glass fiber and applicant's products
Goods and Services
Bulletins, printed periodicals and newsletters pertaining to energy efficiency news and cost savings, and printed insulation comparison charts; instruction manual for troubleshooting regarding the usage of chemical products for producing insulation material extending to the chemicals, transfer pumps, proportioning pumps, drum pumps, diaphragm pumps, and spray guns; printed dealer support materials and printed point of sale purchase materials, namely, stickers, file jackets and portfolio binders consisting of information on insulation marketing products and brochures; printed product specification information sheets; product and training binders featuring printed information and instructional sheets on insulation installation
Goods and Services
Foam insulation for use in building and construction sold in portable spray packs for use in in-situ installation
Goods and Services
Dealer support materials, namely, cups
Goods and Services
Dealer support materials, namely, baseball hats and jackets
Goods and Services
Installation of industrial, commercial and residential building insulation
Classification Information
Correspondences
Address
Please log in with your Justia account to see this address.
Prior Registrations
| | |
| --- | --- |
| Relationship Type | Reel Number |
| Prior Registration | 2679399 |
| Prior Registration | 2790042 |
| Prior Registration | 3376906 |
Foreign Application Information
| | | | |
| --- | --- | --- | --- |
| Filing Date | Application Number | Country | Foreign Priority Claim In |
| 2008-08-08 | 1406624 | Canada | True |
Trademark Events
| | |
| --- | --- |
| Event Date | Event Description |
| 2008-08-29 | NEW APPLICATION ENTERED IN TRAM |
| 2008-08-30 | NOTICE OF DESIGN SEARCH CODE MAILED |
| 2008-12-04 | ASSIGNED TO EXAMINER |
| 2008-12-08 | NON-FINAL ACTION WRITTEN |
| 2008-12-08 | NON-FINAL ACTION E-MAILED |
| 2008-12-08 | NOTIFICATION OF NON-FINAL ACTION E-MAILED |
| 2009-06-05 | FAX RECEIVED |
| 2009-06-08 | ASSIGNED TO LIE |
| 2009-06-08 | CORRESPONDENCE RECEIVED IN LAW OFFICE |
| 2009-06-08 | AMENDMENT FROM APPLICANT ENTERED |
| 2009-06-08 | SUSPENSION LETTER WRITTEN |
| 2009-06-08 | LETTER OF SUSPENSION E-MAILED |
| 2009-06-08 | NOTIFICATION OF LETTER OF SUSPENSION E-MAILED |
| 2009-06-23 | FAX RECEIVED |
| 2009-07-01 | CORRESPONDENCE RECEIVED IN LAW OFFICE |
| 2009-07-01 | AMENDMENT FROM APPLICANT ENTERED |
| 2009-07-01 | SUSPENSION LETTER WRITTEN |
| 2009-07-01 | LETTER OF SUSPENSION E-MAILED |
| 2009-07-01 | NOTIFICATION OF LETTER OF SUSPENSION E-MAILED |
| 2009-11-30 | PAPER RECEIVED |
| 2009-12-01 | CORRESPONDENCE RECEIVED IN LAW OFFICE |
| 2009-12-01 | AMENDMENT FROM APPLICANT ENTERED |
| 2009-12-01 | FAX RECEIVED |
| 2009-12-04 | FAX RECEIVED |
| 2009-12-04 | CORRESPONDENCE RECEIVED IN LAW OFFICE |
| 2009-12-07 | AMENDMENT FROM APPLICANT ENTERED |
| 2009-12-07 | APPROVED FOR PUB - PRINCIPAL REGISTER |
| 2009-12-16 | LAW OFFICE PUBLICATION REVIEW COMPLETED |
| 2010-01-19 | PUBLISHED FOR OPPOSITION |
| 2010-01-19 | OFFICIAL GAZETTE PUBLICATION CONFIRMATION E-MAILED |
| 2010-04-06 | REGISTERED-PRINCIPAL REGISTER |
| 2013-11-11 | TEAS REVOKE/APPOINT ATTORNEY RECEIVED |
| 2013-11-11 | ATTORNEY REVOKED AND/OR APPOINTED |
| 2013-12-04 | TEAS CHANGE OF OWNER ADDRESS RECEIVED |
| 2013-12-04 | APPLICANT/CORRESPONDENCE CHANGES (NON-RESPONSIVE) ENTERED |
| 2015-04-06 | COURTESY REMINDER - SEC. 8 (6-YR) E-MAILED |
| 2016-11-11 | CANCELLED SEC. 8 (6-YR) |