HOLLISTER CALIFORNIA - Trademark Details
Status: 800 - Registered And Renewed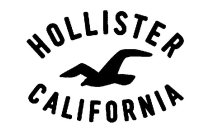 Registration Number
3819025
Word Mark
HOLLISTER CALIFORNIA
Status
800 - Registered And Renewed
Registration Number
3819025
Registration Date
2010-07-13
Mark Drawing
3000 - Illustration: Drawing or design which also includes word(s)/ letter(s)/number(s) Typeset
Design Searches
031519, 031524, 031525 - Birds or bats in flight or with outspread wings. Stylized birds and bats. Other birds.
Published for Opposition Date
2008-11-04
Law Office Assigned Location Code
L10
Employee Name
FALK, ERIN M
Statements
Indication of Colors claimed
Color is not claimed as a feature of the mark.
Disclaimer with Predetermined Text
"CALIFORNIA"
Description of Mark
The mark consists of the words "Hollister" and "California" with a design element.
Goods and Services
[ Belts; Boxer shorts; ] Hooded sweat shirts; [ Jackets; ] Knit shirts; [ Loungewear; Polo shirts; Shirts; ] Short-sleeved or long-sleeved t-shirts; [ Short-sleeved shirts; Shorts; ] Sweat shirts; [ Swimming trunks; Swimwear; ] T-shirts [ ; Undershirts; Underwear ]
Classification Information
International Class
025
- Clothing, footwear, headgear. - Clothing, footwear, headgear.
Class Status Code
6 - Active
Class Status Date
2008-07-29
First Use Anywhere Date
2006-02-12
First Use In Commerce Date
2006-02-12
Current Trademark Owners
Party Type
30 - Original Registrant
Legal Entity Type
03 - Corporation
Trademark Owner History
Party Type
30 - Original Registrant
Legal Entity Type
03 - Corporation
Party Type
20 - Owner at Publication
Legal Entity Type
03 - Corporation
Party Type
10 - Original Applicant
Legal Entity Type
03 - Corporation
Prior Registrations
| | |
| --- | --- |
| Relationship Type | Reel Number |
| Prior Registration | 3337365 |
| Prior Registration | 3426742 |
Madrid International Filings
Original Filing Date USPTO
2009-01-22
International Registration Number
0991514A
International Registration Date
2009-01-22
International Status Code
499
International Renewal Date
2019-01-22
Madrid History Events
Date
Code
Description
2019-08-23
PRINX
INTERNATIONAL REGISTRATION CANCELLED BY IB
2019-02-07
RENWL
INTERNATIONAL REGISTRATION RENEWED
2009-01-23
NEWAP
NEW APPLICATION FOR IR RECEIVED
2009-01-23
MCERT
MANUALLY CERTIFIED
2009-01-23
APPST
IR CERTIFIED AND SENT TO IB
2011-04-09
BRTCP
CHANGE IN OWNERSHIP NOTIFICATION RECEIVED FROM IB
2009-02-19
CREAT
APPLICATION FOR IR REGISTERED BY IB
2010-10-15
CHGOW
CHANGE OF OWNER RECEIVED FROM IB
2015-12-30
ADDCH
CHANGE OF ADDRESS RECEIVED FROM IB
Original Filing Date USPTO
2009-01-22
International Registration Number
0991514
International Registration Date
2009-01-22
International Status Code
480
International Renewal Date
2029-01-22
Madrid History Events
Date
Code
Description
2019-08-23
PRINX
INTERNATIONAL REGISTRATION CANCELLED BY IB
2019-02-07
RENWL
INTERNATIONAL REGISTRATION RENEWED
2011-04-09
BRTCP
CHANGE IN OWNERSHIP NOTIFICATION RECEIVED FROM IB
2009-01-23
NEWAP
NEW APPLICATION FOR IR RECEIVED
2009-01-23
MCERT
MANUALLY CERTIFIED
2009-01-23
APPST
IR CERTIFIED AND SENT TO IB
2009-02-19
CREAT
APPLICATION FOR IR REGISTERED BY IB
2010-10-15
CHGOW
CHANGE OF OWNER RECEIVED FROM IB
2015-12-30
ADDCH
CHANGE OF ADDRESS RECEIVED FROM IB
Trademark Events
| | |
| --- | --- |
| Event Date | Event Description |
| 2008-07-29 | NEW APPLICATION ENTERED IN TRAM |
| 2008-07-30 | NOTICE OF DESIGN SEARCH CODE MAILED |
| 2008-08-26 | ASSIGNED TO EXAMINER |
| 2008-08-27 | NON-FINAL ACTION WRITTEN |
| 2008-08-27 | NON-FINAL ACTION E-MAILED |
| 2008-08-27 | NOTIFICATION OF NON-FINAL ACTION E-MAILED |
| 2008-09-19 | EXAMINERS AMENDMENT -WRITTEN |
| 2008-09-19 | EXAMINERS AMENDMENT E-MAILED |
| 2008-09-19 | NOTIFICATION OF EXAMINERS AMENDMENT E-MAILED |
| 2008-09-19 | EXAMINER'S AMENDMENT ENTERED |
| 2008-09-19 | APPROVED FOR PUB - PRINCIPAL REGISTER |
| 2008-09-30 | ASSIGNED TO LIE |
| 2008-09-30 | LAW OFFICE PUBLICATION REVIEW COMPLETED |
| 2008-10-15 | NOTICE OF PUBLICATION |
| 2008-11-04 | PUBLISHED FOR OPPOSITION |
| 2008-11-12 | EXTENSION OF TIME TO OPPOSE RECEIVED |
| 2008-12-19 | OPPOSITION INSTITUTED NO. 999999 |
| 2009-05-28 | TEAS REVOKE/APP/CHANGE ADDR OF ATTY/DOM REP RECEIVED |
| 2009-05-28 | ATTORNEY/DOM.REP.REVOKED AND/OR APPOINTED |
| 2009-07-06 | TEAS REVOKE/APP/CHANGE ADDR OF ATTY/DOM REP RECEIVED |
| 2009-07-06 | ATTORNEY/DOM.REP.REVOKED AND/OR APPOINTED |
| 2009-07-17 | OPPOSITION DISMISSED NO. 999999 |
| 2009-07-17 | OPPOSITION TERMINATED NO. 999999 |
| 2009-07-17 | TTAB RELEASE CASE TO TRADEMARKS |
| 2009-09-01 | NOA MAILED - SOU REQUIRED FROM APPLICANT |
| 2010-03-01 | TEAS EXTENSION RECEIVED |
| 2010-03-29 | CASE ASSIGNED TO INTENT TO USE PARALEGAL |
| 2010-03-01 | EXTENSION 1 FILED |
| 2010-03-29 | EXTENSION 1 GRANTED |
| 2010-03-30 | NOTICE OF APPROVAL OF EXTENSION REQUEST E-MAILED |
| 2010-04-22 | TEAS STATEMENT OF USE RECEIVED |
| 2010-04-22 | USE AMENDMENT FILED |
| 2010-04-26 | STATEMENT OF USE PROCESSING COMPLETE |
| 2010-05-13 | ASSIGNED TO EXAMINER |
| 2010-05-24 | ALLOWED PRINCIPAL REGISTER - SOU ACCEPTED |
| 2010-06-07 | ASSIGNED TO LIE |
| 2010-06-07 | LAW OFFICE REGISTRATION REVIEW COMPLETED |
| 2010-06-08 | NOTICE OF ACCEPTANCE OF STATEMENT OF USE E-MAILED |
| 2010-07-13 | REGISTERED-PRINCIPAL REGISTER |
| 2015-07-13 | COURTESY REMINDER - SEC. 8 (6-YR) E-MAILED |
| 2016-07-12 | TEAS CHANGE OF CORRESPONDENCE RECEIVED |
| 2016-07-12 | TEAS SECTION 8 & 15 RECEIVED |
| 2016-09-17 | CASE ASSIGNED TO POST REGISTRATION PARALEGAL |
| 2016-09-19 | REGISTERED - SEC. 8 (6-YR) ACCEPTED & SEC. 15 ACK. |
| 2016-09-19 | NOTICE OF ACCEPTANCE OF SEC. 8 & 15 - E-MAILED |
| 2019-07-13 | COURTESY REMINDER - SEC. 8 (10-YR)/SEC. 9 E-MAILED |
| 2020-07-13 | TEAS SECTION 8 & 9 RECEIVED |
| 2020-08-25 | CASE ASSIGNED TO POST REGISTRATION PARALEGAL |
| 2020-08-26 | REGISTERED - SEC. 8 (10-YR) ACCEPTED/SEC. 9 GRANTED |
| 2020-08-26 | REGISTERED AND RENEWED (FIRST RENEWAL - 10 YRS) |
| 2020-08-26 | NOTICE OF ACCEPTANCE OF SEC. 8 & 9 - E-MAILED |