GREATBIGCANVAS.COM - Trademark Details
Status: 710 - Cancelled - Section 8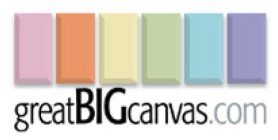 Registration Number
3601647
Word Mark
GREATBIGCANVAS.COM
Status
710 - Cancelled - Section 8
Registration Number
3601647
Registration Date
2009-04-07
Mark Drawing
3000 - Illustration: Drawing or design which also includes word(s)/ letter(s)/number(s) Typeset
Design Searches
261114, 261121 - Three or more rectangles. Rectangles that are completely or partially shaded.
Published for Opposition Date
2009-01-20
Law Office Assigned Location Code
M50
Employee Name
CHHINA, KARANENDRA S
Statements
Indication of Colors claimed
The color(s) pink, orange, yellow, green, blue, purple, black and gray is/are claimed as a feature of the mark.
Description of Mark
The mark consists of the word combination greatBIGcanvas.com under six rectangular bars which, left to right, display the following respective colors: pink, orange, yellow, green, blue and purple. In the word combination, the letters greatBIGcanvas are in black. The letters .com are in gray.
Goods and Services
Transformation for others of photographs using artist canvas as the medium and stretching the canvas over wooden supports to create a work of art of a selected size
Pseudo Mark
GREAT BIG CANVAS
Classification Information
International Class
040
- Treatment of materials. - Treatment of materials.
US Class Codes
100, 103, 106
Class Status Code
2 - Sec. 8 - Entire Registration
Class Status Date
2015-11-13
First Use Anywhere Date
2006-08-00
First Use In Commerce Date
2006-08-00
Correspondences
Address
Please log in with your Justia account to see this address.
Trademark Events
| | |
| --- | --- |
| Event Date | Event Description |
| 2008-07-28 | NEW APPLICATION ENTERED IN TRAM |
| 2008-07-29 | NOTICE OF DESIGN SEARCH CODE AND PSEUDO MARK MAILED |
| 2008-11-03 | ASSIGNED TO EXAMINER |
| 2008-12-06 | EXAMINERS AMENDMENT -WRITTEN |
| 2008-12-06 | EXAMINERS AMENDMENT E-MAILED |
| 2008-12-06 | NOTIFICATION OF EXAMINERS AMENDMENT E-MAILED |
| 2008-12-06 | EXAMINER'S AMENDMENT ENTERED |
| 2008-12-06 | APPROVED FOR PUB - PRINCIPAL REGISTER |
| 2008-12-15 | ASSIGNED TO LIE |
| 2008-12-15 | LAW OFFICE PUBLICATION REVIEW COMPLETED |
| 2008-12-31 | NOTICE OF PUBLICATION |
| 2009-01-20 | PUBLISHED FOR OPPOSITION |
| 2009-04-07 | REGISTERED-PRINCIPAL REGISTER |
| 2010-10-06 | ASSIGNMENT OF OWNERSHIP NOT UPDATED AUTOMATICALLY |
| 2014-03-24 | TEAS REVOKE/APPOINT ATTORNEY RECEIVED |
| 2014-03-24 | ATTORNEY REVOKED AND/OR APPOINTED |
| 2014-03-24 | TEAS REVOKE/APPOINT ATTORNEY RECEIVED |
| 2014-03-24 | ATTORNEY REVOKED AND/OR APPOINTED |
| 2014-04-02 | AUTOMATIC UPDATE OF ASSIGNMENT OF OWNERSHIP |
| 2015-03-18 | AUTOMATIC UPDATE OF ASSIGNMENT OF OWNERSHIP |
| 2015-11-13 | CANCELLED SEC. 8 (6-YR) |