YOUMEN AFTER THE HYPE - Trademark Details
Status: 606 - Abandoned - No Statement Of Use Filed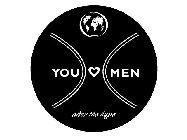 Word Mark
YOUMEN AFTER THE HYPE
Status
606 - Abandoned - No Statement Of Use Filed
Mark Drawing
3000 - Illustration: Drawing or design which also includes word(s)/ letter(s)/number(s) Typeset
Design Searches
010701, 021101, 260121, 261709 - Globes with outlines of continents. Hearts. Circles that are totally or partially shaded. Curved line(s), band(s) or bar(s).
Published for Opposition Date
2008-11-04
Law Office Assigned Location Code
M20
Employee Name
ERVIN, INGA MARIE
Statements
Indication of Colors claimed
Color is not claimed as a feature of the mark.
Disclaimer with Predetermined Text
THE PICTORIAL REPRESENTATION OF A GLOBE OF THE WORLD
Description of Mark
The mark consists of the wording "YOUMEN" AFTER THE HYPE, the image of the Earth and the image of the Heart and two double concave lines within a circular back round.
Goods and Services
Clothing, namely, T-shirts, Head wear, Sweat suits, Jackets, Scarf's, Ties, Shirts, Pants
Pseudo Mark
YOU MEN AFTER THE HYPE
Classification Information
International Class
25
- Clothing, footwear, headgear. - Clothing, footwear, headgear.
Class Status Code
6 - Active
Class Status Date
2008-07-22
Correspondences
Address
Please log in with your Justia account to see this address.
Trademark Events
| | |
| --- | --- |
| Event Date | Event Description |
| 2008-07-22 | NEW APPLICATION ENTERED IN TRAM |
| 2008-07-23 | NOTICE OF DESIGN SEARCH CODE AND PSEUDO MARK MAILED |
| 2008-09-10 | ASSIGNED TO EXAMINER |
| 2008-09-18 | EXAMINERS AMENDMENT -WRITTEN |
| 2008-09-18 | EXAMINER'S AMENDMENT ENTERED |
| 2008-09-19 | EXAMINER'S AMENDMENT MAILED |
| 2008-09-20 | APPROVED FOR PUB - PRINCIPAL REGISTER |
| 2008-09-30 | ASSIGNED TO LIE |
| 2008-09-30 | LAW OFFICE PUBLICATION REVIEW COMPLETED |
| 2008-10-15 | NOTICE OF PUBLICATION |
| 2008-11-04 | PUBLISHED FOR OPPOSITION |
| 2009-01-27 | NOA MAILED - SOU REQUIRED FROM APPLICANT |
| 2009-04-15 | ASSIGNED TO EXAMINER |
| 2009-07-25 | TEAS EXTENSION RECEIVED |
| 2009-07-25 | EXTENSION 1 FILED |
| 2009-07-25 | EXTENSION 1 GRANTED |
| 2010-01-26 | TEAS EXTENSION RECEIVED |
| 2010-03-08 | CASE ASSIGNED TO INTENT TO USE PARALEGAL |
| 2010-01-26 | EXTENSION 2 FILED |
| 2010-03-08 | EXTENSION 2 GRANTED |
| 2010-07-26 | TEAS EXTENSION RECEIVED |
| 2010-07-26 | EXTENSION 3 FILED |
| 2010-07-30 | EXTENSION 3 GRANTED |
| 2010-07-31 | NOTICE OF APPROVAL OF EXTENSION REQUEST MAILED |
| 2011-01-26 | TEAS EXTENSION RECEIVED |
| 2011-01-26 | EXTENSION 4 FILED |
| 2011-02-08 | EXTENSION 4 GRANTED |
| 2011-02-09 | NOTICE OF APPROVAL OF EXTENSION REQUEST MAILED |
| 2011-07-26 | TEAS EXTENSION RECEIVED |
| 2011-07-26 | EXTENSION 5 FILED |
| 2011-07-28 | EXTENSION 5 GRANTED |
| 2011-07-29 | NOTICE OF APPROVAL OF EXTENSION REQUEST MAILED |
| 2012-02-27 | ABANDONMENT - NO USE STATEMENT FILED |
| 2012-02-27 | ABANDONMENT NOTICE MAILED - NO USE STATEMENT FILED |