RD REPRINTS DESK - Trademark Details
Status: 710 - Cancelled - Section 8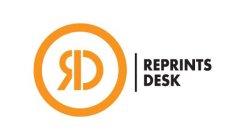 Registration Number
3646052
Word Mark
RD REPRINTS DESK
Status
710 - Cancelled - Section 8
Registration Number
3646052
Registration Date
2009-06-30
Mark Drawing
3000 - Illustration: Drawing or design which also includes word(s)/ letter(s)/number(s) Typeset
Design Searches
260102, 261701, 261704 - Plain single line circles. Straight line(s), band(s) or bar(s). Vertical line(s), band(s) or bar(s).
Published for Opposition Date
2009-04-14
Law Office Assigned Location Code
M30
Employee Name
AIKENS, RONALD E
Statements
Amendment to a Registration/Renewal Certificate
The drawing is amended to appear as follows: PUBLISH NEW CUT
Indication of Colors claimed
The color(s) orange and black is/are claimed as a feature of the mark.
Disclaimer with Predetermined Text
"REPRINTS"
Description of Mark
The mark consists of the stylized letters "RD" within a circle with the letter "R" reversed, separated from the words "REPRINTS DESK" by a vertical line. The "RD" and circle portion of the mark is the color orange. The vertical line and "REPRINTS DESK" portion of the mark are the color black.
Goods and Services
Printing of booklets, catalogs, pamphlets, direct mail pieces, newsletters, business stationery, and articles from medical and technical journals
Classification Information
International Class
040
- Treatment of materials. - Treatment of materials.
US Class Codes
100, 103, 106
Class Status Code
2 - Sec. 8 - Entire Registration
Class Status Date
2020-02-07
First Use Anywhere Date
2006-03-30
First Use In Commerce Date
2006-03-30
Correspondences
Address
Please log in with your Justia account to see this address.
Trademark Events
| | |
| --- | --- |
| Event Date | Event Description |
| 2008-06-24 | NEW APPLICATION ENTERED IN TRAM |
| 2008-06-25 | NOTICE OF DESIGN SEARCH CODE MAILED |
| 2008-09-24 | ASSIGNED TO EXAMINER |
| 2008-09-26 | NON-FINAL ACTION WRITTEN |
| 2008-09-26 | NON-FINAL ACTION E-MAILED |
| 2008-09-26 | NOTIFICATION OF NON-FINAL ACTION E-MAILED |
| 2009-02-06 | TEAS RESPONSE TO OFFICE ACTION RECEIVED |
| 2009-02-09 | ASSIGNED TO LIE |
| 2009-02-09 | CORRESPONDENCE RECEIVED IN LAW OFFICE |
| 2009-02-09 | TEAS/EMAIL CORRESPONDENCE ENTERED |
| 2009-03-12 | APPROVED FOR PUB - PRINCIPAL REGISTER |
| 2009-03-12 | LAW OFFICE PUBLICATION REVIEW COMPLETED |
| 2009-03-25 | NOTICE OF PUBLICATION |
| 2009-04-14 | PUBLISHED FOR OPPOSITION |
| 2009-06-30 | REGISTERED-PRINCIPAL REGISTER |
| 2014-12-12 | TEAS SECTION 7 REQUEST RECEIVED |
| 2014-12-17 | AUTOMATIC UPDATE OF ASSIGNMENT OF OWNERSHIP |
| 2014-12-19 | CASE ASSIGNED TO POST REGISTRATION PARALEGAL |
| 2014-12-23 | AMENDMENT UNDER SECTION 7 - ISSUED |
| 2015-02-09 | TEAS SECTION 8 & 15 RECEIVED |
| 2015-02-23 | CASE ASSIGNED TO POST REGISTRATION PARALEGAL |
| 2015-02-23 | REGISTERED - SEC. 8 (6-YR) ACCEPTED & SEC. 15 ACK. |
| 2015-02-24 | NOTICE OF ACCEPTANCE OF SEC. 8 & 15 - E-MAILED |
| 2015-05-20 | TEAS REVOKE/APP/CHANGE ADDR OF ATTY/DOM REP RECEIVED |
| 2015-05-20 | ATTORNEY/DOM.REP.REVOKED AND/OR APPOINTED |
| 2018-06-30 | COURTESY REMINDER - SEC. 8 (10-YR)/SEC. 9 E-MAILED |
| 2020-02-07 | CANCELLED SEC. 8 (10-YR)/EXPIRED SECTION 9 |