ICIE - Trademark Details
Status: 604 - Abandoned - After Inter-Partes Decision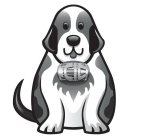 Status
604 - Abandoned - After Inter-Partes Decision
Mark Drawing
3000 - Illustration: Drawing or design which also includes word(s)/ letter(s)/number(s) Typeset
Design Searches
030108, 030124, 190501 - Dogs. Stylized cats, dogs, wolves, foxes, bears, lions or tigers. Barrels.
Published for Opposition Date
2010-01-26
Law Office Assigned Location Code
L80
Employee Name
TURNER, JASON FITZGERA
Statements
Indication of Colors claimed
Color is not claimed as a feature of the mark.
Description of Mark
The mark consists of a dog with a container around it's neck.
Goods and Services
shirts and hats
Classification Information
International Class
25
- Clothing, footwear, headgear. - Clothing, footwear, headgear.
Class Status Code
8 - Abandoned
Class Status Date
2010-06-03
Correspondences
Name
ANTHONY F. BONNER, JR.
Address
Please log in with your Justia account to see this address.
Trademark Events
| | |
| --- | --- |
| Event Date | Event Description |
| 2008-04-21 | NEW APPLICATION ENTERED IN TRAM |
| 2008-04-22 | NOTICE OF DESIGN SEARCH CODE AND PSEUDO MARK MAILED |
| 2008-06-25 | ASSIGNED TO EXAMINER |
| 2008-06-25 | NON-FINAL ACTION WRITTEN |
| 2008-06-26 | NON-FINAL ACTION MAILED |
| 2008-12-15 | TEAS RESPONSE TO OFFICE ACTION RECEIVED |
| 2008-12-15 | CORRESPONDENCE RECEIVED IN LAW OFFICE |
| 2008-12-16 | TEAS/EMAIL CORRESPONDENCE ENTERED |
| 2009-01-07 | FINAL REFUSAL WRITTEN |
| 2009-01-07 | FINAL REFUSAL MAILED |
| 2009-02-17 | TEAS REQUEST FOR RECONSIDERATION RECEIVED |
| 2009-02-17 | CORRESPONDENCE RECEIVED IN LAW OFFICE |
| 2009-02-17 | TEAS/EMAIL CORRESPONDENCE ENTERED |
| 2009-03-11 | ACTION CONTINUING A FINAL - COMPLETED |
| 2009-03-11 | CONTINUATION OF FINAL REFUSAL MAILED |
| 2009-07-06 | EXPARTE APPEAL RECEIVED AT TTAB |
| 2009-07-06 | EX PARTE APPEAL-INSTITUTED |
| 2009-07-17 | JURISDICTION RESTORED TO EXAMINING ATTORNEY |
| 2009-09-02 | EXAMINERS STATEMENT - COMPLETED |
| 2009-09-03 | EXAMINERS STATEMENT MAILED |
| 2009-12-02 | EX PARTE APPEAL-REFUSAL REVERSED |
| 2009-12-02 | EXPARTE APPEAL TERMINATED |
| 2009-12-07 | APPROVED FOR PUB - PRINCIPAL REGISTER |
| 2009-12-23 | ASSIGNED TO LIE |
| 2009-12-23 | LAW OFFICE PUBLICATION REVIEW COMPLETED |
| 2010-01-06 | NOTICE OF PUBLICATION |
| 2010-01-26 | PUBLISHED FOR OPPOSITION |
| 2010-02-26 | EXTENSION OF TIME TO OPPOSE RECEIVED |
| 2010-05-27 | OPPOSITION INSTITUTED NO. 999999 |
| 2010-06-03 | OPPOSITION SUSTAINED NO. 999999 |
| 2010-06-03 | OPPOSITION TERMINATED NO. 999999 |
| 2010-06-03 | ABANDONMENT - AFTER INTER PARTES DECISION |
| 2010-06-03 | ABANDONMENT NOTICE MAILED - INTER PARTES DECISION |