APEX MEDIA - Trademark Details
Status: 606 - Abandoned - No Statement Of Use Filed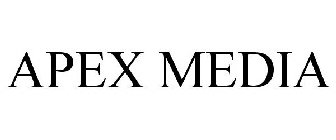 Status
606 - Abandoned - No Statement Of Use Filed
Mark Drawing
4000 - Standard character mark Typeset
Published for Opposition Date
2018-04-24
Law Office Assigned Location Code
L60
Employee Name
GUTTADAURO, JULIE MARI
Statements
Disclaimer with Predetermined Text
"MEDIA"
Goods and Services
Broadcasting services and provision of telecommunication access to films and tv programmes provided via a video-on-demand service
Classification Information
International Class
038
- Telecommunications. - Telecommunications.
US Class Codes
100, 101, 104
Class Status Code
6 - Active
Class Status Date
2008-01-04
Correspondences
Name
DR. FLORENCE ALEXANDER
Address
Please log in with your Justia account to see this address.
Trademark Events
| | |
| --- | --- |
| Event Date | Event Description |
| 2008-01-04 | NEW APPLICATION ENTERED IN TRAM |
| 2008-03-23 | ASSIGNED TO EXAMINER |
| 2008-03-28 | NON-FINAL ACTION WRITTEN |
| 2008-03-28 | NON-FINAL ACTION E-MAILED |
| 2008-03-28 | NOTIFICATION OF NON-FINAL ACTION E-MAILED |
| 2008-03-29 | TEAS RESPONSE TO OFFICE ACTION RECEIVED |
| 2008-03-29 | CORRESPONDENCE RECEIVED IN LAW OFFICE |
| 2008-03-29 | TEAS/EMAIL CORRESPONDENCE ENTERED |
| 2008-04-01 | SUSPENSION LETTER WRITTEN |
| 2008-04-01 | LETTER OF SUSPENSION E-MAILED |
| 2008-04-01 | NOTIFICATION OF LETTER OF SUSPENSION E-MAILED |
| 2008-10-01 | ASSIGNED TO LIE |
| 2008-10-01 | REPORT COMPLETED SUSPENSION CHECK CASE STILL SUSPENDED |
| 2009-04-01 | REPORT COMPLETED SUSPENSION CHECK CASE STILL SUSPENDED |
| 2009-10-02 | ASSIGNED TO LIE |
| 2009-10-06 | REPORT COMPLETED SUSPENSION CHECK CASE STILL SUSPENDED |
| 2010-04-06 | REPORT COMPLETED SUSPENSION CHECK CASE STILL SUSPENDED |
| 2010-10-06 | REPORT COMPLETED SUSPENSION CHECK CASE STILL SUSPENDED |
| 2011-04-08 | REPORT COMPLETED SUSPENSION CHECK CASE STILL SUSPENDED |
| 2011-10-11 | REPORT COMPLETED SUSPENSION CHECK CASE STILL SUSPENDED |
| 2012-04-16 | REPORT COMPLETED SUSPENSION CHECK CASE STILL SUSPENDED |
| 2012-10-24 | REPORT COMPLETED SUSPENSION CHECK CASE STILL SUSPENDED |
| 2013-04-29 | REPORT COMPLETED SUSPENSION CHECK CASE STILL SUSPENDED |
| 2013-11-15 | REPORT COMPLETED SUSPENSION CHECK CASE STILL SUSPENDED |
| 2014-06-02 | REPORT COMPLETED SUSPENSION CHECK CASE STILL SUSPENDED |
| 2015-01-05 | REPORT COMPLETED SUSPENSION CHECK CASE STILL SUSPENDED |
| 2015-07-24 | REPORT COMPLETED SUSPENSION CHECK CASE STILL SUSPENDED |
| 2016-02-08 | REPORT COMPLETED SUSPENSION CHECK CASE STILL SUSPENDED |
| 2016-08-15 | REPORT COMPLETED SUSPENSION CHECK CASE STILL SUSPENDED |
| 2017-02-17 | REPORT COMPLETED SUSPENSION CHECK CASE STILL SUSPENDED |
| 2017-08-29 | ASSIGNED TO LIE |
| 2017-09-05 | REPORT COMPLETED SUSPENSION CHECK CASE STILL SUSPENDED |
| 2018-03-06 | LIE CHECKED SUSP - TO ATTY FOR ACTION |
| 2018-03-17 | APPROVED FOR PUB - PRINCIPAL REGISTER |
| 2018-04-04 | NOTIFICATION OF NOTICE OF PUBLICATION E-MAILED |
| 2018-04-24 | PUBLISHED FOR OPPOSITION |
| 2018-04-24 | OFFICIAL GAZETTE PUBLICATION CONFIRMATION E-MAILED |
| 2018-06-19 | NOA E-MAILED - SOU REQUIRED FROM APPLICANT |
| 2019-01-21 | ABANDONMENT - NO USE STATEMENT FILED |
| 2019-01-22 | ABANDONMENT NOTICE E-MAILED - NO USE STATEMENT FILED |