AUTOMATED SELF STORAGE SYSTEMS LLC A FRAGILE - Trademark Details
Status: 710 - Cancelled - Section 8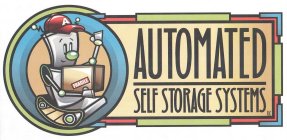 Registration Number
3689911
Word Mark
AUTOMATED SELF STORAGE SYSTEMS LLC A FRAGILE
Status
710 - Cancelled - Section 8
Registration Number
3689911
Registration Date
2009-09-29
Mark Drawing
3000 - Illustration: Drawing or design which also includes word(s)/ letter(s)/number(s) Typeset
Design Searches
020126, 020906, 090501, 190525, 260117, 260121, 261107, 261121, 261713 - Mechanical men, robots. Carrying items such as buckets or bags. Caps, including visors, military caps and baseball caps. Other large containers, including dumpsters and freight containers. Two concentric circles. Circles that are totally or partially shaded. Rectangles with a decorative border, including scalloped, ruffled and zig-zag edges. Rectangles that are completely or partially shaded. Letters or words underlined and/or overlined by one or more strokes or lines.
Published for Opposition Date
2008-03-04
Law Office Assigned Location Code
L50
Employee Name
MANDIR, FREDERICK M
Statements
Indication of Colors claimed
The color(s) black, green, red, blue, tan, silver and white is/are claimed as a feature of the mark.
Disclaimer with Predetermined Text
"AUTOMATED SELF STORAGE SYSTEMS LLC"
Description of Mark
The mark consists of a logo comprising the image of a robot in silver, green, black, tan and white, with green and white hinges and a red cap with a white letter "A" on front, the robot carrying a tan container with the word "Fragile" on the side in white with red background, the robot in front of a tan circle background with a blue circle around the tan circle with the words "Automated Self Storage Systems LLC" in black with a tan background, located to the right of the robot outside the blue circle, and a partial green, red and blue outer border with black outline that is rounded at the left and rectangular to the right.
Goods and Services
Providing self-storage facilities for others
Classification Information
International Class
039
- Transport; packaging and storage of goods; travel arrangement. - Transport; packaging and storage of goods; travel arrangement.
Class Status Code
2 - Sec. 8 - Entire Registration
Class Status Date
2016-05-06
First Use Anywhere Date
2009-05-17
First Use In Commerce Date
2009-05-17
Correspondences
Address
Please log in with your Justia account to see this address.
Trademark Events
| | |
| --- | --- |
| Event Date | Event Description |
| 2007-09-07 | NEW APPLICATION ENTERED IN TRAM |
| 2007-09-08 | NOTICE OF DESIGN SEARCH CODE MAILED |
| 2007-12-10 | ASSIGNED TO EXAMINER |
| 2007-12-10 | NON-FINAL ACTION WRITTEN |
| 2007-12-10 | NON-FINAL ACTION E-MAILED |
| 2007-12-10 | NOTIFICATION OF NON-FINAL ACTION E-MAILED |
| 2007-12-13 | EXAMINERS AMENDMENT -WRITTEN |
| 2007-12-13 | EXAMINERS AMENDMENT E-MAILED |
| 2007-12-13 | NOTIFICATION OF EXAMINERS AMENDMENT E-MAILED |
| 2007-12-13 | EXAMINER'S AMENDMENT ENTERED |
| 2007-12-13 | APPROVED FOR PUB - PRINCIPAL REGISTER |
| 2008-01-24 | TEAS REVOKE/APPOINT ATTORNEY RECEIVED |
| 2008-01-24 | ATTORNEY REVOKED AND/OR APPOINTED |
| 2008-01-26 | ASSIGNED TO LIE |
| 2008-01-26 | LAW OFFICE PUBLICATION REVIEW COMPLETED |
| 2008-02-13 | NOTICE OF PUBLICATION |
| 2008-03-04 | PUBLISHED FOR OPPOSITION |
| 2008-05-27 | NOA MAILED - SOU REQUIRED FROM APPLICANT |
| 2008-11-24 | TEAS EXTENSION RECEIVED |
| 2008-11-24 | EXTENSION 1 FILED |
| 2008-11-24 | EXTENSION 1 GRANTED |
| 2009-06-24 | TEAS PETITION TO REVIVE RECEIVED |
| 2009-06-24 | PETITION TO REVIVE-GRANTED |
| 2009-06-24 | EXTENSION RECEIVED WITH TEAS PETITION |
| 2009-07-28 | CASE ASSIGNED TO INTENT TO USE PARALEGAL |
| 2009-05-27 | EXTENSION 2 FILED |
| 2009-07-29 | EXTENSION 2 GRANTED |
| 2009-08-11 | TEAS STATEMENT OF USE RECEIVED |
| 2009-08-11 | USE AMENDMENT FILED |
| 2009-08-17 | STATEMENT OF USE PROCESSING COMPLETE |
| 2009-08-20 | ALLOWED PRINCIPAL REGISTER - SOU ACCEPTED |
| 2009-08-24 | ASSIGNED TO LIE |
| 2009-08-24 | LAW OFFICE REGISTRATION REVIEW COMPLETED |
| 2009-09-29 | REGISTERED-PRINCIPAL REGISTER |
| 2016-05-06 | CANCELLED SEC. 8 (6-YR) |