TEXAS BOWL - Trademark Details
Status: 710 - Cancelled - Section 8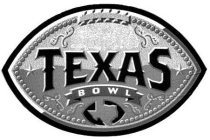 Registration Number
3737402
Status
710 - Cancelled - Section 8
Registration Number
3737402
Registration Date
2010-01-12
Mark Drawing
3000 - Illustration: Drawing or design which also includes word(s)/ letter(s)/number(s) Typeset
Design Searches
010109, 010113, 011712, 090102, 210318, 240907, 261321, 261325 - Two stars. More than one star with five points. State of Texas. Stitches and embroidery including crocheted stitches and loose weaving but excluding stitches or embroidery on clothing pockets. Footballs, including American and Australian footballs; rugby balls and other elliptical shaped balls. Banners. Quadrilaterals that are completely or partially shaded. Quadrilaterals with one or more curved sides.
Published for Opposition Date
2008-09-16
Law Office Assigned Location Code
M20
Employee Name
RINGLE, JAMES W
Statements
Indication of Colors claimed
Color is not claimed as a feature of the mark.
Disclaimer with Predetermined Text
"TEXAS" AND THE DEPICTION OF THE STATE OF TEXAS
Description of Mark
The mark consists of the outline of a football with stitching including the outline of the state of Texas, scrolling and stars.
Goods and Services
Clothing, namely, shirts, T-shirts, and caps
Lining/Stippling Statement
The stippling is for shading purposes only.
Classification Information
International Class
025
- Clothing, footwear, headgear. - Clothing, footwear, headgear.
Class Status Code
2 - Sec. 8 - Entire Registration
Class Status Date
2020-08-14
First Use Anywhere Date
2007-08-02
First Use In Commerce Date
2007-08-02
Correspondences
Address
Please log in with your Justia account to see this address.
Prior Registrations
| | |
| --- | --- |
| Relationship Type | Reel Number |
| Prior Registration | 2092094 |
| Prior Registration | 2160800 |
Trademark Events
| | |
| --- | --- |
| Event Date | Event Description |
| 2007-06-26 | NEW APPLICATION ENTERED IN TRAM |
| 2007-06-27 | NOTICE OF DESIGN SEARCH CODE MAILED |
| 2007-07-16 | ASSIGNED TO EXAMINER |
| 2007-07-16 | NON-FINAL ACTION WRITTEN |
| 2007-07-16 | NON-FINAL ACTION MAILED |
| 2008-01-11 | TEAS RESPONSE TO OFFICE ACTION RECEIVED |
| 2008-02-14 | ASSIGNED TO LIE |
| 2008-02-14 | CORRESPONDENCE RECEIVED IN LAW OFFICE |
| 2008-02-14 | TEAS/EMAIL CORRESPONDENCE ENTERED |
| 2008-02-16 | NON-FINAL ACTION WRITTEN |
| 2008-02-19 | NON-FINAL ACTION MAILED |
| 2008-07-21 | TEAS RESPONSE TO OFFICE ACTION RECEIVED |
| 2008-07-21 | CORRESPONDENCE RECEIVED IN LAW OFFICE |
| 2008-07-22 | TEAS/EMAIL CORRESPONDENCE ENTERED |
| 2008-07-27 | APPROVED FOR PUB - PRINCIPAL REGISTER |
| 2008-08-08 | LAW OFFICE PUBLICATION REVIEW COMPLETED |
| 2008-08-27 | NOTICE OF PUBLICATION |
| 2008-09-16 | PUBLISHED FOR OPPOSITION |
| 2008-12-09 | NOA MAILED - SOU REQUIRED FROM APPLICANT |
| 2009-06-08 | TEAS EXTENSION RECEIVED |
| 2009-06-08 | EXTENSION 1 FILED |
| 2009-06-08 | EXTENSION 1 GRANTED |
| 2009-10-26 | PAPER RECEIVED |
| 2009-11-24 | CASE ASSIGNED TO INTENT TO USE PARALEGAL |
| 2009-11-25 | ITU OFFICE ACTION ISSUED FOR EXTENSION REQUEST |
| 2009-11-25 | ITU OFFICE ACTION ISSUED FOR STATEMENT OF USE |
| 2009-12-07 | TEAS RESPONSE TO OFFICE ACTION RECEIVED |
| 2009-12-07 | RESPONSE TO ITU OFFICE ACTION ENTERED |
| 2009-12-07 | RESPONSE TO ITU OFFICE ACTION ENTERED |
| 2009-10-26 | EXTENSION 2 FILED |
| 2009-12-07 | EXTENSION 2 GRANTED |
| 2009-10-26 | USE AMENDMENT FILED |
| 2009-12-07 | STATEMENT OF USE PROCESSING COMPLETE |
| 2009-12-08 | ALLOWED PRINCIPAL REGISTER - SOU ACCEPTED |
| 2009-12-09 | LAW OFFICE REGISTRATION REVIEW COMPLETED |
| 2010-01-12 | REGISTERED-PRINCIPAL REGISTER |
| 2010-06-09 | AUTOMATIC UPDATE OF ASSIGNMENT OF OWNERSHIP |
| 2010-06-17 | TEAS REVOKE/APP/CHANGE ADDR OF ATTY/DOM REP RECEIVED |
| 2010-06-17 | ATTORNEY/DOM.REP.REVOKED AND/OR APPOINTED |
| 2016-06-09 | TEAS REVOKE/APP/CHANGE ADDR OF ATTY/DOM REP RECEIVED |
| 2016-06-09 | ATTORNEY/DOM.REP.REVOKED AND/OR APPOINTED |
| 2016-07-08 | TEAS SECTION 8 & 15 RECEIVED |
| 2016-09-16 | CASE ASSIGNED TO POST REGISTRATION PARALEGAL |
| 2016-09-16 | REGISTERED - SEC. 8 (6-YR) ACCEPTED & SEC. 15 ACK. |
| 2016-09-16 | NOTICE OF ACCEPTANCE OF SEC. 8 & 15 - E-MAILED |
| 2017-02-02 | TEAS REVOKE/APP/CHANGE ADDR OF ATTY/DOM REP RECEIVED |
| 2017-02-02 | ATTORNEY/DOM.REP.REVOKED AND/OR APPOINTED |
| 2019-01-12 | COURTESY REMINDER - SEC. 8 (10-YR)/SEC. 9 E-MAILED |
| 2020-08-14 | CANCELLED SEC. 8 (10-YR)/EXPIRED SECTION 9 |