NHQ CERTIFIED - Trademark Details
Status: 710 - Cancelled - Section 8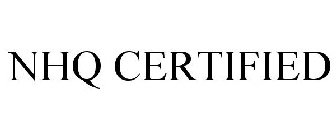 Registration Number
3489329
Status
710 - Cancelled - Section 8
Registration Number
3489329
Registration Date
2008-08-19
Mark Drawing
4000 - Standard character mark Typeset
Published for Opposition Date
2007-10-02
Law Office Assigned Location Code
L90
Employee Name
STIGLITZ, SUSAN R
Statements
Certification Mark Statement
that the services are of a specified quality and feature a specific level of expertise and management efficiency.
Disclaimer with Predetermined Text
"CERTIFIED"
Goods and Services
Builders, trade contractors, and suppliers who have documented management processes, implemented quality assurance systems, and participated in quality control audits and training all in connection with the homebuilding industry
Classification Information
International Class
B
- Services Certification Mark. - Services Certification Mark.
Class Status Code
2 - Sec. 8 - Entire Registration
Class Status Date
2015-03-20
First Use Anywhere Date
2005-01-00
First Use In Commerce Date
2005-01-00
Correspondences
Address
Please log in with your Justia account to see this address.
Trademark Events
| | |
| --- | --- |
| Event Date | Event Description |
| 2006-12-13 | NEW APPLICATION ENTERED IN TRAM |
| 2007-04-03 | ASSIGNED TO EXAMINER |
| 2007-04-03 | NON-FINAL ACTION WRITTEN |
| 2007-04-03 | NON-FINAL ACTION E-MAILED |
| 2007-06-21 | TEAS RESPONSE TO OFFICE ACTION RECEIVED |
| 2007-06-21 | CORRESPONDENCE RECEIVED IN LAW OFFICE |
| 2007-06-21 | TEAS/EMAIL CORRESPONDENCE ENTERED |
| 2007-07-17 | APPROVED FOR PUB - PRINCIPAL REGISTER |
| 2007-08-27 | ASSIGNED TO LIE |
| 2007-08-27 | LAW OFFICE PUBLICATION REVIEW COMPLETED |
| 2007-09-12 | NOTICE OF PUBLICATION |
| 2007-10-02 | PUBLISHED FOR OPPOSITION |
| 2007-12-25 | NOA MAILED - SOU REQUIRED FROM APPLICANT |
| 2008-06-25 | TEAS STATEMENT OF USE RECEIVED |
| 2008-06-25 | USE AMENDMENT FILED |
| 2008-07-01 | STATEMENT OF USE PROCESSING COMPLETE |
| 2008-07-14 | ALLOWED PRINCIPAL REGISTER - SOU ACCEPTED |
| 2008-07-16 | ASSIGNED TO LIE |
| 2008-07-16 | LAW OFFICE REGISTRATION REVIEW COMPLETED |
| 2008-08-19 | REGISTERED-PRINCIPAL REGISTER |
| 2015-03-20 | CANCELLED SEC. 8 (6-YR) |