TRITON - Trademark Details
Status: 602 - Abandoned-Failure To Respond Or Late Response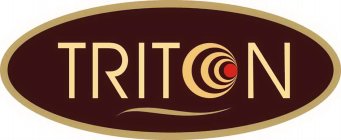 Status
602 - Abandoned-Failure To Respond Or Late Response
Mark Drawing
3000 - Illustration: Drawing or design which also includes word(s)/ letter(s)/number(s) Typeset
Design Searches
260120, 260121, 260317, 260321, 261702, 261713, 270301 - Circles within a circle. Circles that are totally or partially shaded. Concentric ovals and ovals within ovals. Ovals that are completely or partially shaded. Wavy line(s), band(s) or bar(s). Letters or words underlined and/or overlined by one or more strokes or lines. Geometric figures forming letters or numerals, including punctuation.
Law Office Assigned Location Code
L10
Employee Name
WEIGLE, KATHERINE CONN
Statements
Indication of Colors claimed
The applicant claims color as a feature of the mark, namely, Dark Yellow, Light brown, Red and Dark Brown with a tinge of magenta..
Disclaimer with Predetermined Text
"Triton"
Description of Mark
The mark consists of Dark Yellow Triton with a stylized letter O in light brown and a red dot to the interior right of the letter O. The background is dark brown with a tinge of magenta. The border and the tilda mark both have the same shade of light brown as the letter O in the word Triton..
Goods and Services
Flatware; Flatware, namely, forks, knives, and spoons
Classification Information
International Class
8
- Hand tools and implements (hand-operated); cutlery; side arms; razors. - Hand tools and implements (hand-operated); cutlery; side arms; razors.
US Class Codes
023, 028, 044
Class Status Code
6 - Active
Class Status Date
2006-12-08
Correspondences
Address
Please log in with your Justia account to see this address.
Trademark Events
| | |
| --- | --- |
| Event Date | Event Description |
| 2006-12-08 | NEW APPLICATION ENTERED IN TRAM |
| 2006-12-09 | NOTICE OF DESIGN SEARCH CODE MAILED |
| 2007-03-29 | ASSIGNED TO EXAMINER |
| 2007-04-02 | NON-FINAL ACTION WRITTEN |
| 2007-04-02 | NON-FINAL ACTION E-MAILED |
| 2007-10-29 | ABANDONMENT - FAILURE TO RESPOND OR LATE RESPONSE |
| 2007-10-29 | ABANDONMENT NOTICE MAILED - FAILURE TO RESPOND |