RX4MYPET - Trademark Details
Status: 606 - Abandoned - No Statement Of Use Filed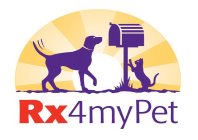 Status
606 - Abandoned - No Statement Of Use Filed
Mark Drawing
3000 - Illustration: Drawing or design which also includes word(s)/ letter(s)/number(s) Typeset
Design Searches
010501, 030104, 030107, 030124, 190707, 260106, 260121, 261707 - Sun, rising or setting (partially exposed or partially obstructed). Domestic cats. Shadows or silhouettes of dogs. Stylized cats, dogs, wolves, foxes, bears, lions or tigers. Home mail boxes. Semi-circles. Circles that are totally or partially shaded. Lines depicting speed, propulsion, heat or wind.
Published for Opposition Date
2007-04-10
Law Office Assigned Location Code
L90
Employee Name
ANKRAH, NAAKWAMA S
Statements
Indication of Colors claimed
The color(s) red, purple, orange, yellow and white is/are claimed as a feature of the mark.
Description of Mark
The mark consists of a purple dog, cat, mailbox, and grass in front of a sun with a white center and alternating yellow and orange sunbeams. The color red appears in the lettering RX and the color purple appears in the lettering 4MYPET.
Goods and Services
Administration of a discount program for enabling participants to obtain discounts on goods through use of a discount membership card; retail pharmacy services; online ordering services using a global computer network, telephone ordering services, and mail order services featuring pet supplies, pet nutritional products, and veterinary pharmaceuticals for pets; order fulfillment services
Pseudo Mark
RX FOR MY PET; RX FOUR MY PET
Classification Information
International Class
35
- Advertising; business management; business administration; office functions. - Advertising; business management; business administration; office functions.
US Class Codes
100, 101, 102
Class Status Code
6 - Active
Class Status Date
2006-10-31
Correspondences
Address
Please log in with your Justia account to see this address.
Trademark Events
| | |
| --- | --- |
| Event Date | Event Description |
| 2006-10-31 | NEW APPLICATION ENTERED IN TRAM |
| 2006-11-01 | NOTICE OF DESIGN SEARCH CODE AND PSEUDO MARK MAILED |
| 2007-01-03 | ASSIGNED TO EXAMINER |
| 2007-01-03 | APPROVED FOR PUB - PRINCIPAL REGISTER |
| 2007-02-03 | ASSIGNED TO LIE |
| 2007-02-24 | LAW OFFICE PUBLICATION REVIEW COMPLETED |
| 2007-03-21 | NOTICE OF PUBLICATION |
| 2007-04-10 | PUBLISHED FOR OPPOSITION |
| 2007-07-03 | NOA MAILED - SOU REQUIRED FROM APPLICANT |
| 2007-12-19 | TEAS EXTENSION RECEIVED |
| 2008-01-15 | ITU OFFICE ACTION ISSUED FOR EXTENSION REQUEST |
| 2008-02-14 | FAX RECEIVED |
| 2007-12-19 | EXTENSION 1 FILED |
| 2008-02-15 | EXTENSION 1 GRANTED |
| 2008-02-20 | AUTOMATIC UPDATE OF ASSIGNMENT OF OWNERSHIP |
| 2008-02-27 | ASSIGNMENT OF OWNERSHIP NOT UPDATED AUTOMATICALLY |
| 2008-03-05 | ASSIGNMENT OF OWNERSHIP NOT UPDATED AUTOMATICALLY |
| 2008-06-12 | TEAS REVOKE/APPOINT ATTORNEY RECEIVED |
| 2008-06-12 | ATTORNEY REVOKED AND/OR APPOINTED |
| 2008-06-12 | TEAS EXTENSION RECEIVED |
| 2008-06-12 | EXTENSION 2 FILED |
| 2008-06-12 | EXTENSION 2 GRANTED |
| 2008-12-09 | TEAS EXTENSION RECEIVED |
| 2008-12-09 | EXTENSION 3 FILED |
| 2008-12-09 | EXTENSION 3 GRANTED |
| 2009-08-03 | ABANDONMENT - NO USE STATEMENT FILED |
| 2009-08-03 | ABANDONMENT NOTICE MAILED - NO USE STATEMENT FILED |