Image Trademark with Serial Number 76712262
Status: 710 - Cancelled - Section 8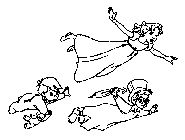 Registration Number
4381482
Status
710 - Cancelled - Section 8
Registration Number
4381482
Registration Date
2013-08-13
Mark Drawing
2000 - Illustration: Drawing or design without any word(s)/letter(s)/ number(s) Typeset
Design Searches
020504, 020505, 020506, 020524, 090502, 100303, 210111 - Girl(s). Boy(s). Baby or babies. Stylized children, including children depicted in caricature form. Top hats. Umbrellas, parasols. Stuffed animals, including teddy bears.
Published for Opposition Date
2013-05-28
Law Office Assigned Location Code
L70
Employee Name
STEEL, ALYSSA PALADINO
Statements
Indication of Colors claimed
Color is not claimed as a feature of the mark.
Description of Mark
The mark consists of a graphic of three children with their arms outstretched as if they are flying. The girl is wearing a dress, the boy is wearing a top hat and holding an umbrella, and the baby is holding a teddy bear.
Goods and Services
Cosmetics; non-medicated toiletries; fragrances for personal use; room fragrances
Goods and Services
Audio and visual recordings featuring live-action, animation, music and stories; pre-recorded audio discs, compact discs featuring music; audio recordings featuring music and stories; decorative refrigerator magnets; pre-recorded DVDs, digital versatile discs and digital video discs featuring live action and animated entertainment, motion picture films and television shows; headphones; musical sound recordings; video game cartridges; video game discs; sunglasses
Goods and Services
Art prints; autograph books; ball point pens; color pencils; decals; diaries; erasers; felt pens; notebooks; notebook paper; pen or pencil holders; pencils; pencil sharpeners; pen and pencil cases; pens; posters; recipe books; rubber stamps; stationery; trading cards; writing implements
Goods and Services
Articles made from imitations of leather, namely, backpacks; book bags; shopping bags made of textile; tote bags; wallets; articles made from imitations of leather, namely, luggage; duffel bags; purses; umbrellas
Goods and Services
Picture frames; pillows
Goods and Services
Beverageware: cookie cutters; cups; dinnerware; dishes; figurines made of porcelain; mugs; plastic cups; plates; tea kettles; beverage glassware; bowls; cookie jars: lunch boxes; sports bottles sold empty; trivets; vacuum bottles
Goods and Services
Textile articles not included in other classes, namely, oven mitts, and pot holders; bed linen; bed sheets; blanket throws; children's blankets; golf towels; kitchen towels; pillow cases; throws; towels
Goods and Services
Bottoms; costumes for use in role-playing games; dresses; footwear; gloves; Halloween costumes; infantwear; jackets; loungewear; pants; shirts; shorts; sleepwear; sweatshirts; ties; tops; underwear; aprons; beachwear; cover-ups; headwear; leggings; leotards; overalls; scarves; socks; sweaters; swimwear
Goods and Services
Action figures and accessories therefor; board games; card games; children's multiple activity toys; basketballs; baseballs; bean bag dolls; children's play cosmetics; Christmas tree ornaments and decorations; collectable toy figures; disc toss toys; dolls; doll clothing; doll accessories; doll playsets; electric action toys; golf balls; jigsaw puzzles; musical toys; plush toys; snow globes; squeeze toys; stuffed toys; talking toys; target games; teddy bears; toy action figures and accessories therefor; toy vehicles; toy cars; toy banks; toy trucks; wind-up toys; bath toys manipulative games; soccer balls; toy figures
Classification Information
Correspondences
Address
Please log in with your Justia account to see this address.
Trademark Events
| | |
| --- | --- |
| Event Date | Event Description |
| 2012-08-30 | NEW APPLICATION OFFICE SUPPLIED DATA ENTERED IN TRAM |
| 2012-09-04 | APPLICATION FILING RECEIPT MAILED |
| 2012-09-13 | ASSIGNED TO EXAMINER |
| 2012-09-19 | PRIORITY ACTION WRITTEN |
| 2012-09-19 | PRIORITY ACTION MAILED |
| 2013-03-07 | TEAS RESPONSE TO OFFICE ACTION RECEIVED |
| 2013-03-07 | CORRESPONDENCE RECEIVED IN LAW OFFICE |
| 2013-03-08 | TEAS/EMAIL CORRESPONDENCE ENTERED |
| 2013-03-29 | EXAMINERS AMENDMENT -WRITTEN |
| 2013-03-29 | EXAMINER'S AMENDMENT ENTERED |
| 2013-03-29 | EXAMINERS AMENDMENT MAILED |
| 2013-04-01 | APPROVED FOR PUB - PRINCIPAL REGISTER |
| 2013-04-19 | ASSIGNED TO LIE |
| 2013-04-20 | LAW OFFICE PUBLICATION REVIEW COMPLETED |
| 2013-05-08 | NOTICE OF PUBLICATION |
| 2013-05-28 | PUBLISHED FOR OPPOSITION |
| 2013-08-13 | REGISTERED-PRINCIPAL REGISTER |
| 2020-03-20 | CANCELLED SEC. 8 (6-YR) |