RSS ROLAND SOUND SPACE - Trademark Details
Status: 800 - Registered And Renewed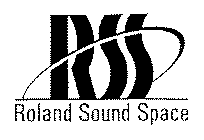 Registration Number
3085889
Word Mark
RSS ROLAND SOUND SPACE
Status
800 - Registered And Renewed
Registration Number
3085889
Registration Date
2006-04-25
Mark Drawing
3000 - Illustration: Drawing or design which also includes word(s)/ letter(s)/number(s) Typeset
Design Searches
010903, 260303, 261705, 261707, 261709, 261725, 270301 - Models or representations of the solar system, other astronomic orbits, such as a moon or satellite orbiting a planet. Incomplete ovals. Horizontal line(s), band(s) or bar(s). Lines depicting speed, propulsion, heat or wind. Curved line(s), band(s) or bar(s). Other lines, bands or bars. Geometric figures forming letters or numerals, including punctuation.
Published for Opposition Date
2005-05-17
Law Office Assigned Location Code
M20
Employee Name
HOLTZ, ALLISON A
Classification Information
International Class
015
- Musical instruments. - Musical instruments.
US Class Codes
002, 021, 036
Class Status Code
6 - Active
Class Status Date
2004-02-26
First Use Anywhere Date
2001-07-31
First Use In Commerce Date
2001-07-31
Current Trademark Owners
Party Type
30 - Original Registrant
Legal Entity Type
03 - Corporation
Trademark Owner History
Party Type
30 - Original Registrant
Legal Entity Type
03 - Corporation
Party Type
20 - Owner at Publication
Legal Entity Type
03 - Corporation
Party Type
10 - Original Applicant
Legal Entity Type
03 - Corporation
Correspondences
Name
Christopher C. Larkin
Prior Registrations
| | |
| --- | --- |
| Relationship Type | Reel Number |
| Prior Registration | 1025207 |
| Prior Registration | 1055073 |
| Prior Registration | 1711304 |
Trademark Events
| | |
| --- | --- |
| Event Date | Event Description |
| 2004-02-26 | NEW APPLICATION ENTERED IN TRAM |
| 2004-09-07 | ASSIGNED TO EXAMINER |
| 2004-09-21 | NON-FINAL ACTION WRITTEN |
| 2004-09-22 | NON-FINAL ACTION MAILED |
| 2004-11-18 | EXAMINERS AMENDMENT -WRITTEN |
| 2004-11-19 | EXAMINERS AMENDMENT MAILED |
| 2005-01-12 | EXAMINER'S AMENDMENT ENTERED |
| 2005-01-21 | APPROVED FOR PUB - PRINCIPAL REGISTER |
| 2005-01-28 | ASSIGNED TO LIE |
| 2005-01-31 | LAW OFFICE PUBLICATION REVIEW COMPLETED |
| 2005-04-27 | NOTICE OF PUBLICATION |
| 2005-05-17 | PUBLISHED FOR OPPOSITION |
| 2005-08-09 | NOA MAILED - SOU REQUIRED FROM APPLICANT |
| 2005-09-26 | PAPER RECEIVED |
| 2005-09-26 | USE AMENDMENT FILED |
| 2005-10-24 | STATEMENT OF USE PROCESSING COMPLETE |
| 2005-11-02 | SU - NON-FINAL ACTION - WRITTEN |
| 2005-11-02 | NON-FINAL ACTION MAILED |
| 2006-01-20 | PAPER RECEIVED |
| 2006-01-20 | CORRESPONDENCE RECEIVED IN LAW OFFICE |
| 2006-02-09 | AMENDMENT FROM APPLICANT ENTERED |
| 2006-02-28 | ALLOWED PRINCIPAL REGISTER - SOU ACCEPTED |
| 2006-03-03 | ASSIGNED TO LIE |
| 2006-03-08 | LAW OFFICE REGISTRATION REVIEW COMPLETED |
| 2006-04-25 | REGISTERED-PRINCIPAL REGISTER |
| 2011-05-13 | TEAS SECTION 8 & 15 RECEIVED |
| 2011-06-15 | CASE ASSIGNED TO POST REGISTRATION PARALEGAL |
| 2011-06-15 | REGISTERED - SEC. 8 (6-YR) ACCEPTED & SEC. 15 ACK. |
| 2015-04-25 | COURTESY REMINDER - SEC. 8 (10-YR)/SEC. 9 E-MAILED |
| 2015-06-23 | TEAS SECTION 8 & 9 RECEIVED |
| 2015-07-16 | CASE ASSIGNED TO POST REGISTRATION PARALEGAL |
| 2015-07-16 | REGISTERED - SEC. 8 (10-YR) ACCEPTED/SEC. 9 GRANTED |
| 2015-07-16 | REGISTERED AND RENEWED (FIRST RENEWAL - 10 YRS) |
| 2015-07-16 | NOTICE OF ACCEPTANCE OF SEC. 8 & 9 - E-MAILED |