ENVIRONMENTAL CHOICE CHOIX ENVIRONNEMENTAL - Trademark Details
Status: 800 - Registered And Renewed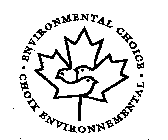 Registration Number
2901161
Word Mark
ENVIRONMENTAL CHOICE CHOIX ENVIRONNEMENTAL
Status
800 - Registered And Renewed
Registration Number
2901161
Registration Date
2004-11-09
Mark Drawing
3000 - Illustration: Drawing or design which also includes word(s)/ letter(s)/number(s) Typeset
Design Searches
031524, 031525, 050303, 260108 - Stylized birds and bats. Other birds. Maple leaf. Letters, numerals or punctuation forming or bordering the perimeter of a circle.
Published for Opposition Date
2004-08-17
Law Office Assigned Location Code
M40
Employee Name
AXILBUND, MELVIN T
Statements
Indication of Colors claimed
Color is not claimed as a feature of the mark.
Certification Mark Statement
THE CERTIFICATION MARK, AS USED BY AUTHORIZED PERSONS, CERTIFIES THAT THE PRODUCTS AND SERVICES ON OR IN CONNECTION WITH WHICH IT IS USED HAVE BEEN DETERMINED TO PROMOTE ENVIRONMENTAL QUALITY WITH REFERENCE TO STANDARDS ESTABLISHED AND POLICED BY THE CERTIFIER OR ITS AUTHORIZED AGENTS.
Disclaimer with Predetermined Text
"ENVIRONMENTAL" or "ENVIRONNEMENTAL"
Goods and Services
Additives for treating waste in recreational vehicle and marine holding tanks, Adhesives for household and general industrial use, All-purpose cleaners,[ Apparatus for separating saleable fractions of recyclable material from an input stream of municipal solid waste, ]Artificial fireplace logs, Automotive engine oil, Automotive fuels, [Automotive engine coolants,] Biodegradable paper bags, Biological-based additives for septic tanks, Building insulation, Business forms, Candles, Carpet tiles, Carpeting and textile floor coverings, Chafing dish fuel, [Chemical waste recovery systems for use in photographic film processing facilities,] Cleaners in liquid form for general industrial use,[ Clothes washing machines, Composition in granular form for absorbing hydrocarbon-based liquids, Compost; Composting toilet,] Corrosion inhibiting coatings for automobiles, [Cotton swabs for personal, medical and cosmetic use,]Degreasing preparations for industrial, commercial and residential use, De-icing chemicals for airport runways, [Diapers, Dish washing machines, ]Disinfectant for use in hospitals, [Door hardware kit for upgrading to fire code standards, ]Drain openers, Electrical transformers with harmonic cancellation capacity, [Engine coolant recycling machines,] Envelopes,[ Equipment for removing amalgam mercury from dental office wastewater,] Facsimile machines, Facial tissue, [Fishing sinkers, Floodwater control barriers,] Flooring made of bamboo,[ Fluorescent lamps and lighting tubes,] Gas-fired hot water boilers; Gypsum wallboard, Hot water storage tanks, Industrial hand cleaner,[ Inhalers for therapeutic use,] Laundry detergent and fabric softener, [Lamps,] Laser printers, Synthetically derived lubricants for industrial and consumer use, [Lubricating oil for bicycle chains, Lubricating oil for marine engines, Mattresses, Men's, women's and children's clothing,] Movable office partitions, Odor control additives for general industrial and residential use, Office furniture,[ Oil filters for engines,] Paper napkins, Paper for printing and writing, Paper towels, Personal care products, namely, cosmetics, soaps and deodorants; Photocopiers; Plastic bags for commercial and home use, [Plastic film used as packaging for food,] Plastic bags for the storage of compost, Plastic Petri dishes, Rechargeable electric batteries, Reusable bags made of plastic and paper for household and general industrial use, Remanufactured toner ink cartridges,[ Sanitary napkins,] Surface coatings for commercial, residential and marine use, Synthetically derived lubricants for industrial and consumer use, [Thermostatic control valves, Tires,] Toilet paper, Vegetable oil-based industrial lubricants, [Water heaters for domestic use, Water treatment equipment, namely, chemical sterilization units]
Translation of Words in Mark
The English translation of the word "CHOIX ENVIRONNEMENTAL" in the mark is "ENVIRONMENTAL CHOICE".
Classification Information
International Class
A
- Goods Certification Mark. - Goods Certification Mark.
Class Status Code
6 - Active
Class Status Date
2003-01-13
First Use Anywhere Date
1997-00-00
First Use In Commerce Date
1997-00-00
Current Trademark Owners
Party Type
32 - 2nd New Owner Entered After Registration
Legal Entity Type
11 - Company
Address
Please log in with your Justia account to see this address.
Correspondences
Address
Please log in with your Justia account to see this address.
Trademark Events
| | |
| --- | --- |
| Event Date | Event Description |
| 2003-05-02 | ASSIGNED TO EXAMINER |
| 2003-05-19 | NON-FINAL ACTION MAILED |
| 2003-11-19 | PAPER RECEIVED |
| 2003-11-19 | CORRESPONDENCE RECEIVED IN LAW OFFICE |
| 2004-01-14 | FINAL REFUSAL MAILED |
| 2004-04-13 | PAPER RECEIVED |
| 2004-04-13 | CORRESPONDENCE RECEIVED IN LAW OFFICE |
| 2004-06-01 | APPROVED FOR PUB - PRINCIPAL REGISTER |
| 2004-07-28 | NOTICE OF PUBLICATION |
| 2004-08-17 | PUBLISHED FOR OPPOSITION |
| 2004-11-09 | REGISTERED-PRINCIPAL REGISTER |
| 2011-03-30 | AUTOMATIC UPDATE OF ASSIGNMENT OF OWNERSHIP |
| 2011-03-31 | TEAS REVOKE/APPOINT ATTORNEY RECEIVED |
| 2011-03-31 | ATTORNEY REVOKED AND/OR APPOINTED |
| 2011-04-19 | TEAS SECTION 8 & 15 RECEIVED |
| 2011-05-07 | CASE ASSIGNED TO POST REGISTRATION PARALEGAL |
| 2011-05-09 | REGISTERED - SEC. 8 (6-YR) ACCEPTED & SEC. 15 ACK. |
| 2013-11-20 | AUTOMATIC UPDATE OF ASSIGNMENT OF OWNERSHIP |
| 2014-11-04 | TEAS SECTION 8 & 9 RECEIVED |
| 2014-11-22 | CASE ASSIGNED TO POST REGISTRATION PARALEGAL |
| 2014-11-22 | REGISTERED - SEC. 8 (10-YR) ACCEPTED/SEC. 9 GRANTED |
| 2014-11-22 | REGISTERED AND RENEWED (FIRST RENEWAL - 10 YRS) |
| 2014-11-22 | NOTICE OF ACCEPTANCE OF SEC. 8 & 9 - E-MAILED |