Image Trademark with Serial Number 76258313
Status: 800 - Registered And Renewed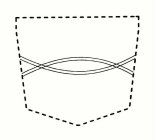 Registration Number
2626917
Status
800 - Registered And Renewed
Registration Number
2626917
Registration Date
2002-09-24
Mark Drawing
2000 - Illustration: Drawing or design without any word(s)/letter(s)/ number(s) Typeset
Design Searches
090316 - Pockets and other parts of clothing, including collars and cuffs.
Law Office Assigned Location Code
L90
Employee Name
BAIRD, MICHAEL
Statements
Amendment to a Registration/Renewal Certificate
THE DRAWING IS AMENDED TO APPEAR AS FOLLOWS: PUBLISH NEW CUT
Certificate of Correction for Registration
In the statement, Column 1, line 9, "First Use 6-0-2001; In Commerce 6-0-2001" should be deleted, and, First Use 2*0-2001; In Commerce 2-0-2001 should be inserted.
Indication of Colors claimed
Color is not claimed as a feature of the mark.
Description of Mark
The mark consists of a pair of double-lined stitches, extending continuously across the rear pocket of the goods. The stitches are curved, intersecting twice, forming an oval shape in the center of the pocket. The dotted lines are used to indicate the positioning of the mark on the goods and are not a feature of the mark.
Goods and Services
clothing, namely, denim jeans sold in specialty retail clothing stores, [ specialty mail order catalog ] and Internet website
Classification Information
International Class
025
- Clothing, footwear, headgear. - Clothing, footwear, headgear.
Class Status Code
6 - Active
Class Status Date
2001-05-25
First Use Anywhere Date
2001-02-00
First Use In Commerce Date
2001-02-00
Current Trademark Owners
Party Type
31 - 1st New Owner Entered After Registration
Legal Entity Type
03 - Corporation
Trademark Owner History
Party Type
31 - 1st New Owner Entered After Registration
Legal Entity Type
03 - Corporation
Party Type
30 - Original Registrant
Legal Entity Type
03 - Corporation
Party Type
10 - Original Applicant
Legal Entity Type
03 - Corporation
Trademark Events
| | |
| --- | --- |
| Event Date | Event Description |
| 2001-08-15 | ASSIGNED TO EXAMINER |
| 2001-08-23 | NON-FINAL ACTION MAILED |
| 2002-02-27 | PAPER RECEIVED |
| 2002-02-27 | PAPER RECEIVED |
| 2002-02-28 | PAPER RECEIVED |
| 2002-02-28 | PAPER RECEIVED |
| 2002-03-01 | PAPER RECEIVED |
| 2002-02-22 | CORRESPONDENCE RECEIVED IN LAW OFFICE |
| 2002-02-25 | CORRESPONDENCE RECEIVED IN LAW OFFICE |
| 2002-05-01 | NON-FINAL ACTION MAILED |
| 2002-05-23 | EXAMINERS AMENDMENT E-MAILED |
| 2002-05-23 | APPROVED FOR REGISTRATION SUPPLEMENTAL REGISTER |
| 2002-09-24 | REGISTERED-SUPPLEMENTAL REGISTER |
| 2003-03-10 | PAPER RECEIVED |
| 2003-03-10 | SEC 7 REQUEST FILED |
| 2003-05-15 | CORRECTION UNDER SECTION 7 ¿ PROCESSED |
| 2004-12-19 | TEAS CHANGE OF CORRESPONDENCE RECEIVED |
| 2005-09-21 | PAPER RECEIVED |
| 2006-01-27 | TEAS CHANGE OF CORRESPONDENCE RECEIVED |
| 2006-02-02 | TEAS REVOKE/APP/CHANGE ADDR OF ATTY/DOM REP RECEIVED |
| 2006-02-02 | ATTORNEY/DOM.REP.REVOKED AND/OR APPOINTED |
| 2005-09-21 | SEC 7 REQUEST FILED |
| 2006-05-11 | ASSIGNED TO PARALEGAL |
| 2006-05-11 | AMENDMENT UNDER SECTION 7 ¿ PROCESSED |
| 2006-06-14 | ASSIGNMENT OF OWNERSHIP NOT UPDATED AUTOMATICALLY |
| 2007-12-07 | CASE FILE IN TICRS |
| 2008-03-17 | TEAS SECTION 8 RECEIVED |
| 2008-03-31 | ASSIGNED TO PARALEGAL |
| 2008-03-31 | REGISTERED - SEC. 8 (6-YR) ACCEPTED |
| 2008-06-17 | NOTICE OF SUIT |
| 2009-05-28 | TEAS REVOKE/APP/CHANGE ADDR OF ATTY/DOM REP RECEIVED |
| 2009-05-28 | ATTORNEY/DOM.REP.REVOKED AND/OR APPOINTED |
| 2009-07-06 | TEAS REVOKE/APP/CHANGE ADDR OF ATTY/DOM REP RECEIVED |
| 2009-07-06 | ATTORNEY/DOM.REP.REVOKED AND/OR APPOINTED |
| 2012-08-27 | TEAS CHANGE OF CORRESPONDENCE RECEIVED |
| 2012-08-28 | TEAS SECTION 8 & 9 RECEIVED |
| 2012-09-12 | CASE ASSIGNED TO POST REGISTRATION PARALEGAL |
| 2012-09-12 | REGISTERED - SEC. 8 (10-YR) ACCEPTED/SEC. 9 GRANTED |
| 2012-09-12 | REGISTERED AND RENEWED (FIRST RENEWAL - 10 YRS) |
| 2012-09-12 | NOTICE OF ACCEPTANCE OF SEC. 8 & 9 - E-MAILED |
| 2021-09-24 | COURTESY REMINDER - SEC. 8 (10-YR)/SEC. 9 E-MAILED |
| 2021-09-27 | TEAS SECTION 8 & 9 RECEIVED |