I G T A - Trademark Details
Status: 606 - Abandoned - No Statement Of Use Filed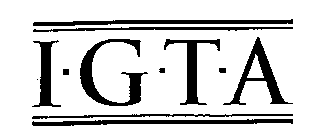 Status
606 - Abandoned - No Statement Of Use Filed
Mark Drawing
3000 - Illustration: Drawing or design which also includes word(s)/ letter(s)/number(s) Typeset
Design Searches
260921, 261713 - Squares that are completely or partially shaded. Letters or words underlined and/or overlined by one or more strokes or lines.
Published for Opposition Date
2002-07-09
Law Office Assigned Location Code
M20
Employee Name
FOLMAR, WINSTON T
Statements
Description of Mark
The mark consists of the letters "IGTA" in a Trajan Bold font, with each letter separated by a small Pantone 295 Blue colored square. The "I" and "A" are the color Pantone 295 Blue and the "G" and "T" are the color Pantene 032 Red. The mark has double horizontal lines on both the top and bottom of the mark, running the length of the mark. The applicant is claiming color as a feature of the mark.
Goods and Services
Publications, namely books, magazines, and pamphlets in the field of group travel
Goods and Services
Direct mail advertising services in the field of group travel; advertising services, namely providing advertising space in a periodical in the field of group travel; arranging and conducting trade show exhibitions in the field of group travel promotion; providing trade information in the field of group travel; travel management; promoting the services of group travel providers, namely through providing discussion boards and providing an advertising medium; promoting group travel, namely through providing group travel planning guides and ideas; promoting the goods and services of others in the field of group travel by preparing and/or placing advertisements, information and articles in an electronic magazine and/or catalog assessed through a global computer network; group travel management
Goods and Services
Travel information services; arranging group travel tours
Goods and Services
Education services, namely, conducting seminars, conferences and workshops in the field of group travel promotion
Goods and Services
Association services, namely, promoting the interests of domestic and/or international group travel providers
Pseudo Mark
INFORMATION GROUP TRAVEL ARRANGING
Classification Information
Correspondences
Address
Please log in with your Justia account to see this address.
Trademark Events
| | |
| --- | --- |
| Event Date | Event Description |
| 2001-08-14 | ASSIGNED TO EXAMINER |
| 2001-08-16 | NON-FINAL ACTION MAILED |
| 2002-02-15 | CORRESPONDENCE RECEIVED IN LAW OFFICE |
| 2002-04-25 | ASSIGNED TO EXAMINER |
| 2002-04-25 | APPROVED FOR PUB - PRINCIPAL REGISTER |
| 2002-06-19 | NOTICE OF PUBLICATION |
| 2002-07-09 | PUBLISHED FOR OPPOSITION |
| 2002-10-01 | NOA MAILED - SOU REQUIRED FROM APPLICANT |
| 2003-07-22 | ABANDONMENT - NO USE STATEMENT FILED |