EBAY - Trademark Details
Status: 710 - Cancelled - Section 8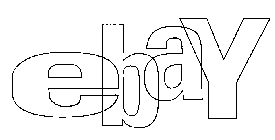 Registration Number
2672470
Status
710 - Cancelled - Section 8
Registration Number
2672470
Registration Date
2003-01-07
Mark Drawing
5T11 - Illustration: Drawing with word(s)/letter(s)/number(s) in Stylized form 50% Reduction
Published for Opposition Date
1999-12-07
Law Office Assigned Location Code
M10
Employee Name
KOVALSKY, LAURA G
Statements
Certificate of Correction for Registration
In the statement, Column 1, lines 4 - 5, "VISORS" should be deleted.
Goods and Services
Clothing, namely, jackets [and visors]
Lining/Stippling Statement
The mark is lined for the colors red, blue, yellow, green, purple, orange and brown but color is not claimed as part of the mark.
Classification Information
International Class
025
- Clothing, footwear, headgear. - Clothing, footwear, headgear.
Class Status Code
2 - Sec. 8 - Entire Registration
Class Status Date
2013-08-09
First Use Anywhere Date
2000-11-28
First Use In Commerce Date
2000-11-28
Correspondences
Name
Bobby A. Ghajar and James R. Cady
Address
Please log in with your Justia account to see this address.
Prior Registrations
| | |
| --- | --- |
| Relationship Type | Reel Number |
| Prior Registration | 2218732 |
| Continuity Child | 75981102 |
Trademark Events
| | |
| --- | --- |
| Event Date | Event Description |
| 1999-08-03 | ASSIGNED TO EXAMINER |
| 1999-08-04 | ASSIGNED TO EXAMINER |
| 1999-08-09 | NON-FINAL ACTION MAILED |
| 1999-08-11 | APPROVED FOR PUB - PRINCIPAL REGISTER |
| 1999-11-05 | NOTICE OF PUBLICATION |
| 1999-12-07 | PUBLISHED FOR OPPOSITION |
| 2000-02-29 | NOA MAILED - SOU REQUIRED FROM APPLICANT |
| 2000-08-29 | EXTENSION 1 FILED |
| 2000-08-29 | EXTENSION 1 GRANTED |
| 2001-03-01 | EXTENSION 2 FILED |
| 2001-03-26 | EXTENSION 2 GRANTED |
| 2001-06-04 | DIVISIONAL REQUEST RECEIVED |
| 2001-07-14 | DIVISIONAL PROCESSING COMPLETE |
| 2001-06-04 | EXTENSION 3 FILED |
| 2001-07-11 | EXTENSION 3 GRANTED |
| 2002-03-01 | EXTENSION 4 FILED |
| 2002-03-01 | EXTENSION 4 GRANTED |
| 2002-08-21 | EXTENSION 5 FILED |
| 2002-08-21 | USE AMENDMENT FILED |
| 2002-10-15 | EXTENSION 5 GRANTED |
| 2002-10-15 | STATEMENT OF USE PROCESSING COMPLETE |
| 1999-12-28 | CORRESPONDENCE RECEIVED IN LAW OFFICE |
| 2002-10-31 | ASSIGNED TO EXAMINER |
| 2002-11-04 | ALLOWED PRINCIPAL REGISTER - SOU ACCEPTED |
| 2003-01-07 | REGISTERED-PRINCIPAL REGISTER |
| 2003-03-12 | PAPER RECEIVED |
| 2003-03-12 | SEC 7 REQUEST FILED |
| 2003-04-14 | CERTIFICATE OF CORRECTION ISSUED |
| 2006-02-27 | TEAS CHANGE OF CORRESPONDENCE RECEIVED |
| 2006-10-31 | TEAS REVOKE/APPOINT ATTORNEY RECEIVED |
| 2006-10-31 | ATTORNEY REVOKED AND/OR APPOINTED |
| 2008-03-13 | CASE FILE IN TICRS |
| 2008-12-16 | TEAS SECTION 8 & 15 RECEIVED |
| 2008-12-19 | ASSIGNED TO PARALEGAL |
| 2009-01-03 | REGISTERED - SEC. 8 (6-YR) ACCEPTED & SEC. 15 ACK. |
| 2009-02-04 | TEAS REVOKE/APPOINT ATTORNEY RECEIVED |
| 2009-02-04 | ATTORNEY REVOKED AND/OR APPOINTED |
| 2011-03-24 | TEAS REVOKE/APPOINT ATTORNEY RECEIVED |
| 2011-03-24 | ATTORNEY REVOKED AND/OR APPOINTED |
| 2013-08-09 | CANCELLED SEC. 8 (10-YR)/EXPIRED SECTION 9 |