NHL COOL SHOTS - Trademark Details
Status: 710 - Cancelled - Section 8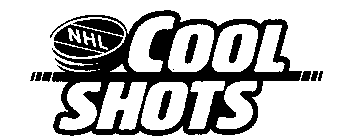 Registration Number
2421716
Status
710 - Cancelled - Section 8
Registration Number
2421716
Registration Date
2001-01-16
Mark Drawing
3T11 - Illustration: Drawing or design which also includes word(s)/ letter(s)/number(s) 50% Reduction
Design Searches
210323, 210325 - Ice hockey sticks, field hockey sticks, and street hockey sticks. Other sporting articles including gymnastic apparatus, face masks, scuba masks, diving boards, badminton shuttlecocks, punching bags, hockey pucks.
Published for Opposition Date
1998-06-30
Law Office Assigned Location Code
M30
Employee Name
PERRY, KIMBERLY B
Statements
Certificate of Correction for Registration
In the statement, Column 1, line 6, " SKIRTS " should be deleted, and " SHIRTS " should be inserted.
Goods and Services
clothing, namely, hats, jackets , [skirts ] * shirts* , sweatshirts, T-shirts, warm-up suits
Pseudo Mark
NATIONAL HOCKEY LEAGUE
Classification Information
International Class
25
- Clothing, footwear, headgear. - Clothing, footwear, headgear.
Class Status Code
2 - Sec. 8 - Entire Registration
Class Status Date
2007-10-20
First Use Anywhere Date
1997-10-00
First Use In Commerce Date
1997-10-00
Correspondences
Address
Please log in with your Justia account to see this address.
Prior Registrations
| | |
| --- | --- |
| Relationship Type | Reel Number |
| Prior Registration | 0883569 |
| Prior Registration | 0891762 |
| Prior Registration | 0897099 |
| Prior Registration | 0993099 |
| Prior Registration | 1464933 |
| Prior Registration | 1678612 |
| Prior Registration | 1894400 |
| Prior Registration | 1904540 |
Trademark Events
| | |
| --- | --- |
| Event Date | Event Description |
| 1998-04-20 | ASSIGNED TO EXAMINER |
| 1998-04-20 | APPROVED FOR PUB - PRINCIPAL REGISTER |
| 1998-05-29 | NOTICE OF PUBLICATION |
| 1998-06-30 | PUBLISHED FOR OPPOSITION |
| 1998-09-22 | NOA MAILED - SOU REQUIRED FROM APPLICANT |
| 1999-01-04 | EXTENSION 1 FILED |
| 1999-01-26 | EXTENSION 1 GRANTED |
| 1999-07-07 | EXTENSION 2 FILED |
| 1999-08-11 | EXTENSION 2 GRANTED |
| 1999-12-30 | EXTENSION 3 FILED |
| 2000-03-13 | EXTENSION 3 GRANTED |
| 2000-08-21 | USE AMENDMENT FILED |
| 2000-10-19 | STATEMENT OF USE PROCESSING COMPLETE |
| 2000-10-31 | ALLOWED PRINCIPAL REGISTER - SOU ACCEPTED |
| 2001-01-16 | REGISTERED-PRINCIPAL REGISTER |
| 2001-02-01 | SEC 7 REQUEST FILED |
| 2001-06-14 | CERTIFICATE OF CORRECTION ISSUED |
| 2006-07-21 | CASE FILE IN TICRS |
| 2007-10-20 | CANCELLED SEC. 8 (6-YR) |