TRINIDAD Y HERMANO, S.A. PRUEBE...Y COMPARE - Trademark Details
Status: 710 - Cancelled - Section 8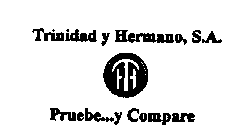 Registration Number
2742149
Word Mark
TRINIDAD Y HERMANO, S.A. PRUEBE...Y COMPARE
Status
710 - Cancelled - Section 8
Registration Number
2742149
Registration Date
2003-07-29
Mark Drawing
3000 - Illustration: Drawing or design which also includes word(s)/ letter(s)/number(s) Typeset
Design Searches
260121 - Circles that are totally or partially shaded.
Published for Opposition Date
2002-07-23
Law Office Assigned Location Code
M20
Employee Name
REIHNER, DAVID C
Statements
Disclaimer with Predetermined Text
"S.A." and "PRUEBE...Y COMPARE"
Description of Mark
The design in the mark consists of a circle containing the letters "T" and "H".
Goods and Services
cigars, cigarettes and related accessories, namely, cigar cutters, ashtrays not of precious metal, matches, cigar lighters not of precious metal, cigar cases not of precious metal and humidors not of precious metal
Translation of Words in Mark
The English translation of the mark is "Trinidad and Brother, Inc., try...and compare".
Classification Information
International Class
034
- Tobacco; smokers' articles; matches. - Tobacco; smokers' articles; matches.
US Class Codes
002, 008, 009, 017
Class Status Code
2 - Sec. 8 - Entire Registration
Class Status Date
2014-03-07
First Use Anywhere Date
1905-01-01
First Use In Commerce Date
1998-12-01
Correspondences
Address
Please log in with your Justia account to see this address.
Trademark Events
| | |
| --- | --- |
| Event Date | Event Description |
| 1997-09-22 | ASSIGNED TO EXAMINER |
| 1997-09-25 | ASSIGNED TO EXAMINER |
| 1997-12-12 | NON-FINAL ACTION MAILED |
| 1998-06-11 | CORRESPONDENCE RECEIVED IN LAW OFFICE |
| 1998-07-08 | NON-FINAL ACTION MAILED |
| 1998-08-14 | CORRESPONDENCE RECEIVED IN LAW OFFICE |
| 1998-09-24 | LETTER OF SUSPENSION MAILED |
| 2001-11-28 | CORRESPONDENCE RECEIVED IN LAW OFFICE |
| 2002-04-17 | CORRESPONDENCE RECEIVED IN LAW OFFICE |
| 2002-04-18 | CORRESPONDENCE RECEIVED IN LAW OFFICE |
| 2002-05-02 | APPROVED FOR PUB - PRINCIPAL REGISTER |
| 2002-07-03 | NOTICE OF PUBLICATION |
| 2002-07-23 | PUBLISHED FOR OPPOSITION |
| 2002-09-03 | EXTENSION OF TIME TO OPPOSE RECEIVED |
| 2003-01-28 | NOA MAILED - SOU REQUIRED FROM APPLICANT |
| 2003-03-31 | PAPER RECEIVED |
| 2003-03-31 | USE AMENDMENT FILED |
| 2003-05-19 | STATEMENT OF USE PROCESSING COMPLETE |
| 2003-06-03 | ALLOWED PRINCIPAL REGISTER - SOU ACCEPTED |
| 2003-07-29 | REGISTERED-PRINCIPAL REGISTER |
| 2004-03-11 | TEAS CHANGE OF CORRESPONDENCE RECEIVED |
| 2008-07-14 | CASE FILE IN TICRS |
| 2009-06-30 | TEAS SECTION 8 & 15 RECEIVED |
| 2009-07-06 | ASSIGNED TO PARALEGAL |
| 2009-07-14 | REGISTERED - SEC. 8 (6-YR) ACCEPTED & SEC. 15 ACK. |
| 2009-07-28 | TEAS CHANGE OF OWNER ADDRESS RECEIVED |
| 2009-07-28 | APPLICANT/CORRESPONDENCE CHANGES (NON-RESPONSIVE) ENTERED |
| 2009-09-30 | ASSIGNMENT OF OWNERSHIP NOT UPDATED AUTOMATICALLY |
| 2014-03-07 | CANCELLED SEC. 8 (10-YR)/EXPIRED SECTION 9 |