DOT NET - Trademark Details
Status: 606 - Abandoned - No Statement Of Use Filed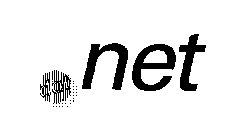 Status
606 - Abandoned - No Statement Of Use Filed
Mark Drawing
3000 - Illustration: Drawing or design which also includes word(s)/ letter(s)/number(s) Typeset
Design Searches
210301 - Balls including playground balls, beach balls, billiard balls, tennis balls, bingo balls and lottery balls.
Published for Opposition Date
2003-04-15
Law Office Assigned Location Code
M70
Employee Name
SHANAHAN, WILLIAM PATR
Statements
Disclaimer with Predetermined Text
".NET" or "DOT NET"
Description of Mark
The mark will consist of a red ball with the word "DOT" written across it diagonally in white and, when activated by a click on the computer icon, the "DOT" appears to rotate around the red ball, while the ball drops down on the word "NET" written in black and appears to flatten the word, followed by a bounce of the ball upward, after which the ball bounces back to its original position in the center and then repeats the bouncing motion.
Goods and Services
computer software which facilitates searching for and transferring information across global computer communications networks, and for the execution of business transactions using global computer communications networks
Goods and Services
advertising services, namely, promoting the goods and services of others via placement of advertisements in non-interactive and interactive on-line multimedia programs and publications accessed through computer, television and telecommunications networks; billing services and data processing services
Goods and Services
financial information provided by electronic means
Goods and Services
telecommunications services; namely, electronic transmission of data, sound, text, image messages, video and documents via computer, television and telecommunications networks; telecommunications gateway services; providing telecommunications connections to a global computer network; electronic mail services; electronic store-and-forward messaging services; and network conferencing services
Goods and Services
providing mulitple-user access to a global computer information network for the transfer and dissemination of a wide range of information
Lining/Stippling Statement
The mark is lined for the color red in the drawing. The stippling in the drawing (under the red ball) is for shading purposes only.
Classification Information
Correspondences
Name
BellSouth Intellectual Property Corp.
Address
Please log in with your Justia account to see this address.
Trademark Events
| | |
| --- | --- |
| Event Date | Event Description |
| 1997-07-10 | ASSIGNED TO EXAMINER |
| 1997-07-16 | ASSIGNED TO EXAMINER |
| 1997-07-30 | NON-FINAL ACTION MAILED |
| 1998-01-30 | CORRESPONDENCE RECEIVED IN LAW OFFICE |
| 1998-03-26 | FINAL REFUSAL MAILED |
| 1998-09-28 | CORRESPONDENCE RECEIVED IN LAW OFFICE |
| 1998-11-25 | LETTER OF SUSPENSION MAILED |
| 2002-10-04 | CORRESPONDENCE RECEIVED IN LAW OFFICE |
| 2002-12-09 | CORRESPONDENCE RECEIVED IN LAW OFFICE |
| 2003-01-22 | APPROVED FOR PUB - PRINCIPAL REGISTER |
| 2003-03-26 | NOTICE OF PUBLICATION |
| 2003-04-15 | PUBLISHED FOR OPPOSITION |
| 2003-04-16 | EXTENSION OF TIME TO OPPOSE RECEIVED |
| 2004-05-04 | NOA MAILED - SOU REQUIRED FROM APPLICANT |
| 2004-05-21 | TEAS CHANGE OF CORRESPONDENCE RECEIVED |
| 2004-06-25 | CASE FILE IN TICRS |
| 2004-11-04 | TEAS EXTENSION RECEIVED |
| 2004-11-04 | EXTENSION 1 FILED |
| 2004-11-12 | EXTENSION 1 GRANTED |
| 2005-09-27 | ABANDONMENT - NO USE STATEMENT FILED |
| 2005-09-27 | ABANDONMENT NOTICE MAILED - NO USE STATEMENT FILED |