OAKLAND SKATES ROLLER HOCKEY - Trademark Details
Status: 602 - Abandoned-Failure To Respond Or Late Response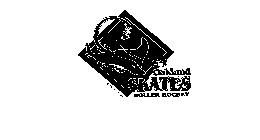 Word Mark
OAKLAND SKATES ROLLER HOCKEY
Status
602 - Abandoned-Failure To Respond Or Late Response
Mark Drawing
3000 - Illustration: Drawing or design which also includes word(s)/ letter(s)/number(s) Typeset
Design Searches
031901, 040706, 090702, 210304, 210325, 260721 - Sharks. Objects or combinations of objects representing an animal. Sports footwear, including jogging and tennis shoes, shoes with spikes, skates, snow shoes, ski boots. Lacrosse sticks, polo mallets, croquet mallets. Other sporting articles including gymnastic apparatus, face masks, scuba masks, diving boards, badminton shuttlecocks, punching bags, hockey pucks. Diamonds that are completely or partially shaded.
Law Office Assigned Location Code
L60
Employee Name
BRUN, JEAN M
Statements
Goods and Services
paper goods and printed matter, including posters, calendars, game programs, pennants, playing cards, player and team trading cards, postcards, stationary, bumper stickers and decals
Goods and Services
clothing, including shirts, T-shirts, jerseys, sweaters, sweatshirts, jackets, pants, shorts, sweatpants, hats, caps and footwear
Goods and Services
toys and sporting goods, including action skill games, computer and video game cartridges, cassettes and programs, hockey game playing equipment, hockey sticks, hockey pucks, and in-line skates
Goods and Services
entertainment services, namely organizing, promoting and exhibiting rolley hockey competitions
Classification Information
Correspondences
Address
Please log in with your Justia account to see this address.
Trademark Events
| | |
| --- | --- |
| Event Date | Event Description |
| 1996-10-21 | ASSIGNED TO EXAMINER |
| 1996-10-22 | NON-FINAL ACTION MAILED |
| 1997-06-11 | ABANDONMENT - FAILURE TO RESPOND OR LATE RESPONSE |