RED POWER - Trademark Details
Status: 710 - Cancelled - Section 8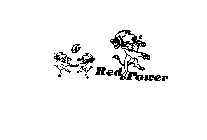 Registration Number
2261773
Status
710 - Cancelled - Section 8
Registration Number
2261773
Registration Date
1999-07-20
Mark Drawing
3S13 - Illustration: Drawing or design which also includes word(s)/ letter(s)/number(s) 75% Reduction
Design Searches
030101, 030124 - Lions. Stylized cats, dogs, wolves, foxes, bears, lions or tigers.
Published for Opposition Date
1997-09-02
Law Office Assigned Location Code
L70
Employee Name
COONEY, KATHLEEN
Statements
Goods and Services
laundry bleach, laundry blueing, laundry detergent and laundry starch, all-purpose cleaning preparations, general purpose scouring powder, floor polish and furniture polish, sand for use as abrasive in sand blasting, skin soap, toilet soap, deodorant soap, perfume, cologne, essential oils for personal use, cosmetics, namely, make-up, rouge, foundation, lipstick, eye liner, eye shadow, mascara, blush, hair lotion and dentifrice
Goods and Services
packaging padding of rubber for shipping containers, stuffing of rubber, rings of rubber for use as pipe connection seals, rubber bags for merchandise packaging (envelopes or pouches), rubber, synthetic rubber and latex, rubber or use in the manufacture of tires, cable, paper, general purpose silicone rubber sealant, mica for use as a filler in plastics, in the manufacture of electronic instruments, asbestos packing for valves, asbestos fabric for use as cable insulation, asbestos for use in the manufacture of brake linings, mica for use as a filler in plastics, in themanufacture of electronic equipment, plastic in the extruded form of bars, blocks, pellets, rods, sheets, and tubes for use in the manufacture of insulating materials, plastic in extruded form for the general industrial use of packing and insulating, flexible pipes for plumbing purposes, flexible pipes for conveying natural gas
Goods and Services
flexible pipes of earthenware and flexible pipes of sandstone
Goods and Services
meat, fish for food purposes, poultry, poultry hens and ducks, meat extracts, preserved, dried and cooked fruits and vegetables, jellies, jams, fruit sauces, eggs, milk, cheese, cream cheese, cottage cheese, edible oils, and edible fats
Goods and Services
coffee, tea, cocoa, sugar, rice, tapioca, sago, grain or chicory based coffee substitutes, flour, bread, food package combinations consisting primarily of bread, crackers, and/or cookies, cereal based snack food, pastries, flavored ices; honey, treacle; yeast, baking powder, salt, mustard, vinegar, sauces (condiments), spices, ice flavoring syrup; and chocolate
Goods and Services
beers, mineral and aerated waters, soda water, mineral water, soft drinks, ginger ale, fruit drinks, fruit juices, and malt syrup for beverages
Goods and Services
champagne, cognac, gin, rum, vodka, vermouth, tequila, sherry, whiskey, wine, apertif wines, sherry, and port wines
Goods and Services
tobacco, matches, smoking pipes, tobacco spittoons, and tobacco pouches
Lining/Stippling Statement
The lining is a feature of the mark and does not indicate color.
Classification Information
Correspondences
Address
Please log in with your Justia account to see this address.
Foreign Application Information
| | | | |
| --- | --- | --- | --- |
| Filing Date | Application Number | Country | Foreign Priority Claim In |
| 1995-02-09 | | Switzerland | False |
Trademark Events
| | |
| --- | --- |
| Event Date | Event Description |
| 1996-06-06 | ASSIGNED TO EXAMINER |
| 1996-06-07 | NON-FINAL ACTION MAILED |
| 1996-09-04 | Sec. 1(B) CLAIM DELETED |
| 1996-08-07 | CORRESPONDENCE RECEIVED IN LAW OFFICE |
| 1996-09-20 | NON-FINAL ACTION MAILED |
| 1996-09-25 | CORRESPONDENCE RECEIVED IN LAW OFFICE |
| 1996-11-12 | APPROVED FOR PUB - PRINCIPAL REGISTER |
| 1997-08-01 | NOTICE OF PUBLICATION |
| 1997-09-02 | PUBLISHED FOR OPPOSITION |
| 1997-11-25 | NOA MAILED - SOU REQUIRED FROM APPLICANT |
| 1998-05-21 | EXTENSION 1 FILED |
| 1998-05-21 | EXTENSION 1 GRANTED |
| 1998-11-25 | EXTENSION 2 FILED |
| 1998-12-18 | EXTENSION 2 GRANTED |
| 1999-05-25 | NOTICE OF ALLOWANCE CANCELLED |
| 1999-05-27 | Sec. 1(B) CLAIM DELETED |
| 1999-07-20 | REGISTERED-PRINCIPAL REGISTER |
| 2006-04-22 | CANCELLED SEC. 8 (6-YR) |
| 2006-08-21 | PAPER RECEIVED |
| 2006-09-01 | REVIEW OF CORRESPONDENCE COMPLETE |