I'LL BLAST YOUR DRAINFIELD BACK TO LIFE!! - Trademark Details
Status: 710 - Cancelled - Section 8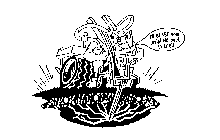 Registration Number
1920219
Word Mark
I'LL BLAST YOUR DRAINFIELD BACK TO LIFE!!
Status
710 - Cancelled - Section 8
Registration Number
1920219
Registration Date
1995-09-19
Mark Drawing
3S17 - Illustration: Drawing or design which also includes word(s)/ letter(s)/number(s) 75% Reduction
Design Searches
011517, 020134, 040702, 051301, 051303, 150102, 181101 - Thought or speech clouds either empty or with wording and/or punctuation. Other grotesque men including men formed by plants or objects. Objects or combinations of objects representing a person. Roots, including ginger and ginseng. Grasses. Other machines for industry; industrial installations. Tires, inner tubes, tire marks, snow chains.
Published for Opposition Date
1995-06-27
Law Office Assigned Location Code
J30
Employee Name
STINE, DAVID H
Statements
Goods and Services
cleaning services, namely septic tank drainfields and sewer lines
Classification Information
International Class
037
- Building construction; repair; installation services. - Building construction; repair; installation services.
US Class Codes
100, 103, 106
Class Status Code
2 - Sec. 8 - Entire Registration
Class Status Date
2020-04-17
First Use Anywhere Date
1993-10-00
First Use In Commerce Date
1993-10-00
Correspondences
Address
Please log in with your Justia account to see this address.
Trademark Events
| | |
| --- | --- |
| Event Date | Event Description |
| 1995-03-14 | ASSIGNED TO EXAMINER |
| 1995-03-15 | APPROVED FOR PUB - PRINCIPAL REGISTER |
| 1995-05-26 | NOTICE OF PUBLICATION |
| 1995-06-27 | PUBLISHED FOR OPPOSITION |
| 1995-09-19 | REGISTERED-PRINCIPAL REGISTER |
| 2001-04-13 | REGISTERED - SEC. 8 (6-YR) & SEC. 15 FILED |
| 2001-07-03 | REGISTERED - SEC. 8 (6-YR) ACCEPTED & SEC. 15 ACK. |
| 2005-07-19 | TEAS CHANGE OF CORRESPONDENCE RECEIVED |
| 2005-07-19 | PAPER RECEIVED |
| 2005-07-19 | REGISTERED - COMBINED SECTION 8 (10-YR) & SEC. 9 FILED |
| 2006-02-06 | ASSIGNED TO PARALEGAL |
| 2006-02-06 | REGISTERED - SEC. 8 (10-YR) ACCEPTED/SEC. 9 GRANTED |
| 2006-02-06 | REGISTERED AND RENEWED (FIRST RENEWAL - 10 YRS) |
| 2006-03-11 | TEAS CHANGE OF CORRESPONDENCE RECEIVED |
| 2007-06-19 | CASE FILE IN TICRS |
| 2008-12-19 | NOTICE OF DESIGN SEARCH CODE MAILED |
| 2016-09-21 | AUTOMATIC UPDATE OF ASSIGNMENT OF OWNERSHIP |
| 2020-04-17 | CANCELLED SEC. 8 (10-YR)/EXPIRED SECTION 9 |