JOEY THE JOY BIRD SLUMPY THE SAD ELEPHANT HATTIE THE HAPPY HIPPO WORRY THE FEAR WORM LOTTA THE LOVEAROO ANGIE THE ANGRY TIGER IDA THE I CAN BEE GRISWALD THE GRUMPY GRIZZLY RANT THE PICNIC ANT FLUTTER - Trademark Details
Status: 710 - Cancelled - Section 8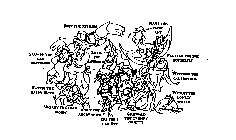 Registration Number
2229792
Word Mark
JOEY THE JOY BIRD SLUMPY THE SAD ELEPHANT HATTIE THE HAPPY HIPPO WORRY THE FEAR WORM LOTTA THE LOVEAROO ANGIE THE ANGRY TIGER IDA THE I CAN BEE GRISWALD THE GRUMPY GRIZZLY RANT THE PICNIC ANT FLUTTER
Status
710 - Cancelled - Section 8
Registration Number
2229792
Registration Date
1999-03-09
Mark Drawing
3S17 - Illustration: Drawing or design which also includes word(s)/ letter(s)/number(s) 75% Reduction
Design Searches
030103, 030108, 030114, 030126, 030301, 030303, 030324, 030326, 031519, 031525, 031902, 032301, 0323 - Tigers and other large cats (such as leopards or jaguars). Dogs. Other bears (including polar bears or grizzly bears but not including teddy bears in 210111). Costumed animals and those with human attributes in this division (cats, dogs, wolves, foxes, bears, lions or tigers). Elephants, mammoths. Hippopotami, rhinoceri. Stylized elephants, hippopotami, rhinoceri, giraffes, alpacas, camels and llamas. Costumed animals and those with human attributes in this division (elephants, hippopotami, rhinoceri, giraffes, alpacas, camels and llamas). Birds or bats in flight or with outspread wings. Other birds. Whales. Butterflies, moths. Worms, slugs, caterpillars, larvae, centipedes and cocoons. Bees, wasps, hornets. Ants. Stylized insects, spiders and micro-organisms. Costumed insects, spiders, and micro-organisms and those with human attributes.
Published for Opposition Date
1996-03-05
Law Office Assigned Location Code
L80
Employee Name
GEORGE, ANIL V
Statements
Description of Mark
The drawing consists in part of a stylized bird, elephant, worm, tiger, bee, dog, bear, whale, butterfly, ant, kangaroo, and hippopotamus.
Goods and Services
address, appointment, and engagement books; adhesive tape dispensers and adhesive tapes for household or stationery use; photograph and scrapbook albums; announcement cards; appliques in the form of decals; art etchings; graphic and printed art reproductions; pressure sensitive graphics for application to automobiles; printed awards; baby books; paper name badges; paper party bags; paper bags; ball-point pens; paper banners; desk baskets for desk accessories; paper bath mats; paper bibs, printing blocks; poster boards; clip boards; directory boards; drawing boards; picture framing mat boards; lap boards for reading and writing; book covers; bookmarks; children's books; coloring books; cookbooks; exercise books; memorandum books; note books; picture books; series of fiction and non-fiction books about human relations, human interaction, and peer resolution; sketch books; song books; telephone number books; educational books about human relations, human interaction, and peer resolution; paper gift wrap bows; paint buckets; bumper stickers; business cards; business forms; calendars; desk calendars; wall calendars; blank cards; Christmas cards; greeting cards; note cards; occasion cards; trading cards; caricatures; cartoon prints; cartoon strips; newspaper cartoons; pen cases; pencil cases; playing card cases; chalk; score charts; checkbooks and passbook wallets; modeling clay for children; cloth for bookbinding; color prints; newspaper comic strips; blank paper tapes and cards for the recording of computer programs; composition books; computer game instruction manuals; educational computer manuals; coupons; confetti; checkbook covers; art and craft paint kits; arts and craft paint kits; crayons; crossword puzzles; daily planners; decals; paper cake decorations; paper party decorations; desk pads; calendar desk pads; desk top organizers; diaries; dictionaries; paper doilies; drafting rulers; drawing rulers; envelopes; paper envelopes for packaging; chalk erasers; facial and bathroom tissue; fingerprint kits; flash cards; stationery folders; order forms; gift cards; metallic gift wrap; and ribbons; gift wrapping paper; celestial globes; glue for stationery or household use; cards bearing universal greetings; paper party hats; pen and pencil holders; desk stands and cases, boxes, and holders for pens, pencils, and ink; illustration boards; paper illustration boards; illustration paper; pencil leads; magazine columns on children's and parents' issues; general feature magazines; children's magazines; instructional math manuals, educational manuals designed to instruct teachers about teaching at the elementary level; maps; markers; merchandise bags; modeling materials and compounds for use by children; motivational cards; sheet music; printed sheet music; paper napkins; newsletters and pamphlets on the subject of education and children's issues; paper bags for packaging; plastic bags for merchandise, paper pouches for packaging; packing paper; paint brushes; paint sets for children; painting; art paper; newsprint paper; printing paper; paper toilet seat cover; decorative paper centerpieces; paper garbage bags; paper identification tags; paper mache figurines; paper mats; paper ribbons; paper party hats; paper table cloths; paper table linens; pencil sharpeners; decorative pencil-top ornaments; pencils; paper pennants; fountain pens; ink pens; photograph albums; photographic prints; mounted and unmounted photographs; pictures; art pictures; watercolor pictures; paper pillow cases; paper place mats; plastic sandwich bags; playing cards; blank and partially printed postcards; picture postcards; presentation boards; price tags; printed emblems; printed music books; color prints; pictorial prints; sketches; sketch pads; song books; stationery; stationery boxes; paper table mats; printed instructional, educational, and teaching materials in music and elementary education; teaching materials in the form of games; paper wash cloths; paper towels; wedding albums; food wrappers; wrapping paper; and writing pads
Goods and Services
clothing, namely shirts; tops; bottoms; shirts; slacks; dresses; T-shirts; underwear; lingerie; loungewear; suits; clothing ties; socks; hosiery; aprons; ascots; shoes; footwear; boots; slippers; headwear; clothing belts; head, neck, sweat, and wrist bands; bathing caps; bathing suits; bathing trunks; swimwear; bikinis; bathrobes; cloth bibs; ski bibs; shorts; blazers; jackets; blouses; body shapers; body suits; bow ties; boxer shorts; bras; breeches; baby bunting; caftans; capes; cloth diapers; coats; collars; Halloween and masquerade costumes; masquerade costumes and masks sold in connection therewith; coveralls; overalls; coverups; culottes; cummerbunds; dressing gowns; gowns; rain coats; rainwear; foul weather gear; foundation garments; frocks; gauchos; gloves; gym shorts and suits; heels; housecoats; infantwear; heel inserts; inner soles; jeans; closing jerseys; jodhpurs; jogging, play, sweat, warm-up, and wet suit; jumpers; jumpsuits; kerchiefs; kilts; kimonos; knickers; leggings; leotards; leg warmers; mittens; neckwear; pantyhose; pinafores; pullovers; rompers; rubbers; sashes; shawls; scarves; clothing shifts; shower caps; singlets; ski boots and ski boot bags, pants, suits, and gloves; ski wear; sleepwear; slips; smocks; sneakers; vested suits; sun visors; suspenders; swaddling clothes; tennis wear; tights; tracksuits; tunics; turbans; sweaters; undergarments; uniforms; unitards, veils; vests; waistcoats; tuxedos; wedding gowns; clothing wraps; and zori
Goods and Services
rubber action balls; action and play figures; action figures and accessories therefor; action skill games; mechanical action toys; stuffed toy animals; ankle and wrist weights for exercise; baby and children's multiple activity toys; baby rattles; ski boot bags; paddle ball games; balloons; foot balls; playground balls; bath toys; inflatable bath toys; bathtub toys; stuffed toy bears; teddy bears; Christmas tree ornaments, namely bells; bingo cards; bingo game playing equipment; toy building blocks; toy construction blocks; board games; equipment sold as unit for playing board games; role playing game equipment in the nature of game book manuals; toy boxes; card games; equipment sold as a unit for card games; cases for dolls, action figures, play accessories, toy structures, and toy vehicles; computer game cassettes; checker sets, chess sets; Christmas tree decorations, ornaments, skirts, stands, and stand covers; action and play figure clothing; doll clothing; costume masks; doll costumes; party favors in the nature of crackers and noisemakers; craft sets for paniting, sewing, beading, and decorating balloons; crib mobiles; infant action crib toys; portable support structures for dance and other exercises; dog toys; doll accessories and house furnishings; dolls; bean bag, paper, porcelain, rag, and soft sculpture dolls; dolls and playsets therefor; Easter egg coloring kits; egg decorating kits; electric action toys; paper face masks; party favors in the nature of small toys; computer game cartridges, computer game cassettes, video game cartridges, video game tape cassettes; computer game equipment containing memory devices, namely discs; game equipment in the nature of game book and role playing manuals; video output and video game machines; promotional game materials; gametables; hobby craft sets for painting, sewing, beading, and decorating balloons; ice skates; jigsaw puzzles; jump ropes; kites; kite lines; toy mobiles; mobiles for children; music box toys; musical toys; toy noisemakers; playground equipment, namely climbing units, swings, swing sets, and sand boxes; playsets for dolls; soft sculpture dolls, soft sculpture plush toys; play swimming pools; inflatable swimming pools; inflatable pools for recreational use; computer game programs; puppets; marionette puppets; manipulative, three dimensional, and cube-type puzzles; toy record players; ride-on toys; inflatable ride-on toys; tractors and sleds for use in down-hill amusement rides; rocking horses; rollerskates; skipping ropes; toy scooters; snow shoes; skateboards; skittles; snow sleds for recreational use; toy spinning-tops; stuffed toys; swimming aids, namely pool rings and arm and swim floats for recreational use; toy vehicles; non-riding transportation toys; squeezable squeaking toys; water squirting toys; wind-up walkingtoys; wind-up toys; video game interactive control floor pads and mats; video game joysticks; video game machines; play wands; water wing swim aids for recreational use; and yo-yos
Goods and Services
educational services, namely organizing and conducting programs, seminars, training, and instruction in music; entertainment services in the nature of live and prerecorded musical, dramatic, comic, dance, and magic performances; entertainment services, namely the production of animated cartoons, video tapes, and audio cassette tapes; record production services, audio recording and production services; and television programming and production services
Lining/Stippling Statement
The lines in the drawing are design features of the mark and are not intended to indicate color.
Classification Information
Correspondences
Address
Please log in with your Justia account to see this address.
Trademark Events
| | |
| --- | --- |
| Event Date | Event Description |
| 1995-02-22 | ASSIGNED TO EXAMINER |
| 1995-02-24 | ASSIGNED TO EXAMINER |
| 1995-03-14 | NON-FINAL ACTION MAILED |
| 1995-10-17 | ASSIGNED TO EXAMINER |
| 1995-11-22 | APPROVED FOR PUB - PRINCIPAL REGISTER |
| 1996-02-02 | NOTICE OF PUBLICATION |
| 1996-03-05 | PUBLISHED FOR OPPOSITION |
| 1996-10-30 | OPPOSITION INSTITUTED NO. 999999 |
| 1998-05-07 | OPPOSITION DISMISSED NO. 999999 |
| 1998-05-07 | OPPOSITION TERMINATED NO. 999999 |
| 1999-03-09 | REGISTERED-PRINCIPAL REGISTER |
| 2005-12-17 | CANCELLED SEC. 8 (6-YR) |