JACKSONVILLE JAGUARS - Trademark Details
Status: 601 - Abandoned - Express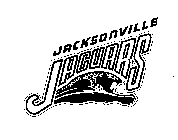 Word Mark
JACKSONVILLE JAGUARS
Status
601 - Abandoned - Express
Mark Drawing
3S15 - Illustration: Drawing or design which also includes word(s)/ letter(s)/number(s) 75% Reduction
Design Searches
030103, 030124, 200306 - Tigers and other large cats (such as leopards or jaguars). Stylized cats, dogs, wolves, foxes, bears, lions or tigers. Hang tags, labels including address labels.
Published for Opposition Date
1995-05-23
Law Office Assigned Location Code
L90
Employee Name
WEIGALL, CHARLES
Statements
Disclaimer with Predetermined Text
"JACKSONVILLE"
Goods and Services
posters, calendars, trading cards, books relating to football, magazines relating to football, notepads, stickers, and bumper stickers
Goods and Services
men's, women's and children's clothing; namely, fleece tops and bottoms, caps, T-shirts, sweatshirts, shorts, tank tops, sweaters, pants, jackets, turtlenecks, jumpsuits, jerseys, warm up suits, swimwear, wind resistant jackets, parkas, sleepwear; namely, robes and pajamas, gloves, scarves, aprons, boots and sneakers
Goods and Services
golf bags, bowling balls, golf balls, bowling bags, footballs, golf club covers, exercise equipment; namely, stationery exercise bicycles, bar bells and free weights and golf clubs
Goods and Services
entertainment services; namely, professional football games and exhibitions
Classification Information
Correspondences
Address
Please log in with your Justia account to see this address.
Trademark Events
| | |
| --- | --- |
| Event Date | Event Description |
| 1994-01-14 | ASSIGNED TO EXAMINER |
| 1994-01-31 | ASSIGNED TO EXAMINER |
| 1994-02-25 | NON-FINAL ACTION MAILED |
| 1994-08-12 | CORRESPONDENCE RECEIVED IN LAW OFFICE |
| 1995-01-06 | APPROVED FOR PUB - PRINCIPAL REGISTER |
| 1995-04-21 | NOTICE OF PUBLICATION |
| 1995-05-23 | PUBLISHED FOR OPPOSITION |
| 1995-08-15 | NOA MAILED - SOU REQUIRED FROM APPLICANT |
| 1996-01-11 | ABANDONMENT - EXPRESS MAILED |