Image Trademark with Serial Number 74433090
Status: 604 - Abandoned - After Inter-Partes Decision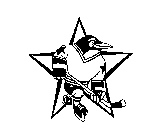 Status
604 - Abandoned - After Inter-Partes Decision
Mark Drawing
2S23 - Illustration: Drawing or design without any word(s)/letter(s)/ number(s) 75% Reduction
Design Searches
010103, 010110, 031515, 031526, 090302, 090306, 090702, 210304 - A single star with five points. Three or more stars. Penguins, puffins. Costumed birds and bats and those with human attributes. Trousers, slacks, shorts, bloomers. Shirts (including sweatshirts), camisoles, blouses, halters and tank tops. Sports footwear, including jogging and tennis shoes, shoes with spikes, skates, snow shoes, ski boots. Lacrosse sticks, polo mallets, croquet mallets.
Published for Opposition Date
1994-04-19
Law Office Assigned Location Code
L30
Employee Name
GOLD, BARBARA A
Statements
Goods and Services
magnets; hockey helmets; prerecorded video tapes, audio tapes, phonograph recordings and compact discs featuring music, narration, ice hockey and ice hockey players
Goods and Services
jewelry, watches, clocks, and non-monetary coins of precious metal and not of precious metal
Goods and Services
stationery, mounted and/or unmounted photographs, bumper stickers, paper pennants, decals, calendars, posters and pens
Goods and Services
gym bags
Goods and Services
plastic novelty license plates
Goods and Services
glass ornaments and beverage glassware
Goods and Services
pennants not of paper; towels
Goods and Services
clothing; namely, men's, women's, children's and infants' sweatshirts, T-shirts, jackets, sweaters, sweatpants, hats, nightshirts, shorts, jerseys, sleepwear, shoes, dress shirts, socks, ties and cloth bibs
Goods and Services
board games; hockey sticks and pucks; golf clubs and balls; dolls
Goods and Services
entertainment services in the nature of providing professional ice hockey exhibitions
Lining/Stippling Statement
The lining on the drawing is a feature of the mark and is not intended to indicate color.
Classification Information
Correspondences
Address
Please log in with your Justia account to see this address.
Prior Registrations
| | |
| --- | --- |
| Relationship Type | Reel Number |
| Prior Registration | 0875829 |
Trademark Events
| | |
| --- | --- |
| Event Date | Event Description |
| 1993-12-30 | ASSIGNED TO EXAMINER |
| 1994-01-04 | ASSIGNED TO EXAMINER |
| 1994-01-10 | EXAMINER'S AMENDMENT MAILED |
| 1994-01-21 | APPROVED FOR PUB - PRINCIPAL REGISTER |
| 1994-03-18 | NOTICE OF PUBLICATION |
| 1994-04-19 | PUBLISHED FOR OPPOSITION |
| 1994-05-16 | EXTENSION OF TIME TO OPPOSE RECEIVED |
| 1994-12-08 | OPPOSITION INSTITUTED NO. 999999 |
| 1997-06-03 | OPPOSITION INSTITUTED NO. 999999 |
| 1999-06-09 | OPPOSITION SUSTAINED NO. 999999 |
| 2000-09-29 | OPPOSITION TERMINATED NO. 999999 |
| 2001-12-17 | OPPOSITION TERMINATED NO. 999999 |
| 2001-12-17 | ABANDONMENT - AFTER INTER PARTES DECISION |