VALUE SHIELD THE MARK OF VALUE - Trademark Details
Status: 606 - Abandoned - No Statement Of Use Filed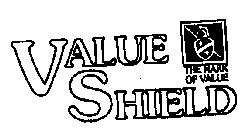 Word Mark
VALUE SHIELD THE MARK OF VALUE
Status
606 - Abandoned - No Statement Of Use Filed
Mark Drawing
3S09 - Illustration: Drawing or design which also includes word(s)/ letter(s)/number(s) 75% Reduction
Design Searches
010103, 010109, 230501, 240102, 260920, 260921 - A single star with five points. Two stars. Helmets which are part of armor. Shields or crests with figurative elements contained therein or superimposed thereon. Squares inside one another. Squares that are completely or partially shaded.
Published for Opposition Date
1993-03-16
Law Office Assigned Location Code
G10
Employee Name
CHILDRESS, JAME
Statements
Disclaimer with Predetermined Text
"THE MARK OF VALUE"
Description of Mark
The drawing consists in part of a knight's helmet and a shield.
Goods and Services
cigars, little cigars, pipe tobacco and roll-your-own cigarette tobacco
Classification Information
International Class
34
- Tobacco; smokers' articles; matches. - Tobacco; smokers' articles; matches.
Class Status Code
8 - Abandoned
Class Status Date
1999-08-04
Correspondences
Address
Please log in with your Justia account to see this address.
Trademark Events
| | |
| --- | --- |
| Event Date | Event Description |
| 1992-11-23 | ASSIGNED TO EXAMINER |
| 1992-12-08 | EXAMINER'S AMENDMENT MAILED |
| 1992-12-09 | APPROVED FOR PUB - PRINCIPAL REGISTER |
| 1993-02-12 | NOTICE OF PUBLICATION |
| 1993-03-16 | PUBLISHED FOR OPPOSITION |
| 1993-11-16 | NOA MAILED - SOU REQUIRED FROM APPLICANT |
| 1994-03-25 | EXTENSION 1 FILED |
| 1994-05-07 | EXTENSION 1 GRANTED |
| 1994-09-14 | EXTENSION 2 FILED |
| 1994-10-29 | EXTENSION 2 GRANTED |
| 1995-05-17 | ABANDONMENT - NO USE STATEMENT FILED |