B.U.M. EQUIPMENT FOOTWEAR - Trademark Details
Status: 710 - Cancelled - Section 8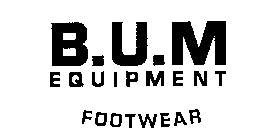 Registration Number
2214818
Word Mark
B.U.M. EQUIPMENT FOOTWEAR
Status
710 - Cancelled - Section 8
Registration Number
2214818
Registration Date
1998-12-29
Mark Drawing
3S15 - Illustration: Drawing or design which also includes word(s)/ letter(s)/number(s) 75% Reduction
Design Searches
260913, 260921 - Two squares. Squares that are completely or partially shaded.
Published for Opposition Date
1996-12-24
Law Office Assigned Location Code
L80
Employee Name
CLARK, ROBERT C
Statements
Disclaimer with Predetermined Text
"EQUIPMENT" and "FOOTWEAR"
Goods and Services
men's, women's, and children's shoes
Classification Information
International Class
25
- Clothing, footwear, headgear. - Clothing, footwear, headgear.
Class Status Code
2 - Sec. 8 - Entire Registration
Class Status Date
2005-10-02
First Use Anywhere Date
1998-04-01
First Use In Commerce Date
1998-04-01
Correspondences
Address
Please log in with your Justia account to see this address.
Prior Registrations
| | |
| --- | --- |
| Relationship Type | Reel Number |
| Prior Registration | 1430327 |
| Prior Registration | 1665480 |
Trademark Events
| | |
| --- | --- |
| Event Date | Event Description |
| 1992-08-18 | ASSIGNED TO EXAMINER |
| 1992-08-20 | ASSIGNED TO EXAMINER |
| 1992-09-28 | NON-FINAL ACTION MAILED |
| 1993-03-05 | CORRESPONDENCE RECEIVED IN LAW OFFICE |
| 1993-04-21 | LETTER OF SUSPENSION MAILED |
| 1995-12-12 | INQUIRY AS TO SUSPENSION MAILED |
| 1996-02-26 | CORRESPONDENCE RECEIVED IN LAW OFFICE |
| 1996-04-11 | LETTER OF SUSPENSION MAILED |
| 1996-10-06 | ASSIGNED TO EXAMINER |
| 1996-10-09 | APPROVED FOR PUB - PRINCIPAL REGISTER |
| 1996-11-22 | NOTICE OF PUBLICATION |
| 1996-12-24 | PUBLISHED FOR OPPOSITION |
| 1997-03-18 | NOA MAILED - SOU REQUIRED FROM APPLICANT |
| 1997-09-17 | EXTENSION 1 FILED |
| 1997-10-09 | EXTENSION 1 GRANTED |
| 1998-03-16 | EXTENSION 2 FILED |
| 1998-04-22 | EXTENSION 2 GRANTED |
| 1998-09-14 | USE AMENDMENT FILED |
| 1998-10-20 | STATEMENT OF USE PROCESSING COMPLETE |
| 1998-10-26 | ASSIGNED TO EXAMINER |
| 1998-10-29 | ALLOWED PRINCIPAL REGISTER - SOU ACCEPTED |
| 1998-12-29 | REGISTERED-PRINCIPAL REGISTER |
| 2005-10-02 | CANCELLED SEC. 8 (6-YR) |