AN AUTHORIZED R RIVERSIDE FURNITURE GALLERY DEALER - Trademark Details
Status: 710 - Cancelled - Section 8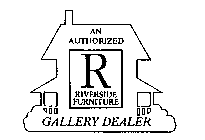 Registration Number
1709021
Word Mark
AN AUTHORIZED R RIVERSIDE FURNITURE GALLERY DEALER
Status
710 - Cancelled - Section 8
Registration Number
1709021
Registration Date
1992-08-18
Mark Drawing
3S17 - Illustration: Drawing or design which also includes word(s)/ letter(s)/number(s) 75% Reduction
Design Searches
070104, 261102 - Detached house. Plain single line rectangles.
Published for Opposition Date
1992-05-26
Law Office Assigned Location Code
G50
Employee Name
BODSON, MICHAEL E
Statements
Certification Mark Statement
The certification mark is used by persons authorized by certifier and is used to certify that the user is an authorized retail dealer in furniture manufactured by the certifier.
Disclaimer with Predetermined Text
"AN AUTHORIZED FURNITURE GALLERY DEALER"
Goods and Services
retail furniture store services
Classification Information
International Class
B
- Services Certification Mark. - Services Certification Mark.
Class Status Code
2 - Sec. 8 - Entire Registration
Class Status Date
1999-02-22
First Use Anywhere Date
1990-11-01
First Use In Commerce Date
1990-11-01
Correspondences
Address
Please log in with your Justia account to see this address.
Prior Registrations
| | |
| --- | --- |
| Relationship Type | Reel Number |
| Prior Registration | 0898739 |
Trademark Events
| | |
| --- | --- |
| Event Date | Event Description |
| 1991-02-05 | CORRESPONDENCE RECEIVED IN LAW OFFICE |
| 1991-04-10 | ASSIGNED TO EXAMINER |
| 1991-06-21 | NON-FINAL ACTION MAILED |
| 1991-07-10 | CORRESPONDENCE RECEIVED IN LAW OFFICE |
| 1991-09-04 | NON-FINAL ACTION MAILED |
| 1991-12-19 | CORRESPONDENCE RECEIVED IN LAW OFFICE |
| 1992-02-04 | ASSIGNED TO EXAMINER |
| 1992-02-04 | APPROVED FOR PUB - PRINCIPAL REGISTER |
| 1992-04-24 | NOTICE OF PUBLICATION |
| 1992-05-26 | PUBLISHED FOR OPPOSITION |
| 1992-08-18 | REGISTERED-PRINCIPAL REGISTER |
| 1999-02-22 | CANCELLED SEC. 8 (6-YR) |