COUNTDOWN 2000 ECONOLOGY - Trademark Details
Status: 606 - Abandoned - No Statement Of Use Filed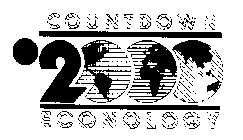 Word Mark
COUNTDOWN 2000 ECONOLOGY
Status
606 - Abandoned - No Statement Of Use Filed
Mark Drawing
3S13 - Illustration: Drawing or design which also includes word(s)/ letter(s)/number(s) 75% Reduction
Design Searches
010701, 260121, 261713, 270305 - Globes with outlines of continents. Circles that are totally or partially shaded. Letters or words underlined and/or overlined by one or more strokes or lines. Representations of objects forming letters or numerals, including punctuation.
Published for Opposition Date
1993-03-02
Law Office Assigned Location Code
L30
Employee Name
BILLINGS, JESSIE W
Statements
Disclaimer with Predetermined Text
"ASSOCIATES"
Goods and Services
educational computer software in the fields of science, ecology and the environment
Goods and Services
jewelry; precious gem stones; watches; clocks; chronometers; sun dials; hour glasses
Goods and Services
luggage; handbags; tote bags; purses; wallets; key cases; trunks for travel; umbrellas; parasols; walking sticks
Goods and Services
insurance consulting services; financial analysis and consulting services; financial management services
Goods and Services
television, cable television and radio broadcasting services; telecommunication services; telephone communication services; telegram transmission and communication services; communication services; namely, electronic transmission of messages and data
Classification Information
Correspondences
Address
Please log in with your Justia account to see this address.
Prior Registrations
| | |
| --- | --- |
| Relationship Type | Reel Number |
| Continuity Child | 74801973 |
Trademark Events
| | |
| --- | --- |
| Event Date | Event Description |
| 1991-03-25 | ASSIGNED TO EXAMINER |
| 1991-07-19 | NON-FINAL ACTION MAILED |
| 1992-01-21 | CORRESPONDENCE RECEIVED IN LAW OFFICE |
| 1992-03-19 | NON-FINAL ACTION MAILED |
| 1992-05-21 | CORRESPONDENCE RECEIVED IN LAW OFFICE |
| 1992-07-07 | ASSIGNED TO EXAMINER |
| 1992-07-07 | FINAL REFUSAL MAILED |
| 1992-11-05 | CORRESPONDENCE RECEIVED IN LAW OFFICE |
| 1992-12-17 | APPROVED FOR PUB - PRINCIPAL REGISTER |
| 1993-01-29 | NOTICE OF PUBLICATION |
| 1993-03-02 | PUBLISHED FOR OPPOSITION |
| 1993-05-25 | NOA MAILED - SOU REQUIRED FROM APPLICANT |
| 1993-11-22 | EXTENSION 1 FILED |
| 1994-01-27 | EXTENSION 1 GRANTED |
| 1994-05-25 | DIVISIONAL REQUEST RECEIVED |
| 1994-08-01 | DIVISIONAL PROCESSING COMPLETE |
| 1994-05-25 | EXTENSION 2 FILED |
| 1994-08-01 | EXTENSION 2 GRANTED |
| 1994-08-09 | DIVISIONAL PROCESSING COMPLETE |
| 1994-11-25 | EXTENSION 3 FILED |
| 1995-01-09 | EXTENSION 3 GRANTED |
| 1995-05-25 | EXTENSION 4 FILED |
| 1995-07-18 | EXTENSION 4 GRANTED |
| 1995-11-25 | EXTENSION 5 FILED |
| 1996-02-02 | EXTENSION 5 GRANTED |
| 1996-05-26 | ABANDONMENT - NO USE STATEMENT FILED |