THOMAS M. COOLEY LAW SCHOOL IN CORDE HOMINUM EST ANIMA LEGIS MCMLXXII - Trademark Details
Status: 710 - Cancelled - Section 8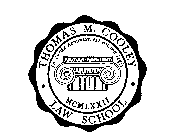 Registration Number
1682900
Word Mark
THOMAS M. COOLEY LAW SCHOOL IN CORDE HOMINUM EST ANIMA LEGIS MCMLXXII
Status
710 - Cancelled - Section 8
Registration Number
1682900
Registration Date
1992-04-14
Mark Drawing
3S21 - Illustration: Drawing or design which also includes word(s)/ letter(s)/number(s) 75% Reduction
Design Searches
070903, 240501, 260107, 260118, 260121 - Columns. Circular or elliptical seals. Circles with a decorative border, including scalloped, ruffled and zig-zag edges. Three or more concentric circles. Circles that are totally or partially shaded.
Published for Opposition Date
1992-01-21
Law Office Assigned Location Code
G10
Employee Name
REIHNER, DAVID C
Statements
Disclaimer with Predetermined Text
"LAW SCHOOL" and "1972"
Description of Mark
The mark consists of the design of a seal containing the words "THOMAS M. COOLEY LAW SCHOOL", the Latin words "IN CORDE HOMINUM EST ANIMA LEGIS", the Roman numeral for the year date 1972, and the capital of a column.
Goods and Services
business card holders, stationery and paperweights
Goods and Services
brief case type portfolios
Goods and Services
coasters and drinking glasses
Goods and Services
sweatshirts, T-shirts and golf shirts
Translation of Words in Mark
The English translation of "IN CORDE HOMINUM EST ANIMA LEGIS" in the mark is "the spirit of the law is in the human heart".
Classification Information
Correspondences
Address
Please log in with your Justia account to see this address.
Trademark Events
| | |
| --- | --- |
| Event Date | Event Description |
| 1991-03-06 | ASSIGNED TO EXAMINER |
| 1991-04-22 | NON-FINAL ACTION MAILED |
| 1991-06-03 | CORRESPONDENCE RECEIVED IN LAW OFFICE |
| 1991-07-24 | APPROVED FOR PUB - PRINCIPAL REGISTER |
| 1991-12-20 | NOTICE OF PUBLICATION |
| 1992-01-21 | PUBLISHED FOR OPPOSITION |
| 1992-04-14 | REGISTERED-PRINCIPAL REGISTER |
| 1998-04-10 | REGISTERED - SEC. 8 (6-YR) & SEC. 15 FILED |
| 1998-06-08 | REGISTERED - SEC. 8 (6-YR) ACCEPTED & SEC. 15 ACK. |
| 2002-04-09 | REGISTERED - COMBINED SECTION 8 (10-YR) & SEC. 9 FILED |
| 2002-06-16 | REGISTERED - SEC. 8 (10-YR) ACCEPTED/SEC. 9 GRANTED |
| 2002-06-16 | REGISTERED AND RENEWED (FIRST RENEWAL - 10 YRS) |
| 2007-12-27 | CASE FILE IN TICRS |
| 2010-01-13 | TEAS CHANGE OF CORRESPONDENCE RECEIVED |
| 2016-01-29 | CANCELLED SEC. 8 (10-YR)/EXPIRED SECTION 9 |