CERTIFIED CATERING PROFESSIONALS - Trademark Details
Status: 710 - Cancelled - Section 8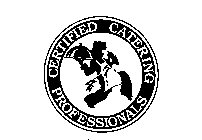 Registration Number
1601626
Word Mark
CERTIFIED CATERING PROFESSIONALS
Status
710 - Cancelled - Section 8
Registration Number
1601626
Registration Date
1990-06-12
Mark Drawing
3S21 - Illustration: Drawing or design which also includes word(s)/ letter(s)/number(s) 75% Reduction
Design Searches
020102, 020120, 020121, 110325, 260108, 260117, 260121 - Shadows or silhouettes of men. Butchers, chefs, and bakers. Waiters, butlers, men wearing tuxedos including magicians. Other non-electric cooking and serving ware, including woks. Letters, numerals or punctuation forming or bordering the perimeter of a circle. Two concentric circles. Circles that are totally or partially shaded.
Published for Opposition Date
1990-03-20
Law Office Assigned Location Code
560
Statements
Certification Mark Statement
THE CERTIFICATION MARK, AS USED BY PERSONS AUTHORIZED BY THE CERTIFIER, CERTIFIES THAT THE SERVICES ARE BEING PERFORMED BY A PERSON WHO MEETS CERTAIN EDUCATIONAL, EXPERIENTIAL, AND ETHICAL STANDARDS SET BY THE CERTIFIER AND WHO FURTHER DEMONSTRATES A CERTAIN LEVEL OF COMPETENCY BY HAVING PASSED AN EXAMINATION ADMINISTERED BY THE CERTIFIER.
Disclaimer with Predetermined Text
"CERTIFIED CATERING PROFESSIONALS"
Goods and Services
CATERING SERVICES
Classification Information
International Class
B
- Services Certification Mark. - Services Certification Mark.
Class Status Code
2 - Sec. 8 - Entire Registration
Class Status Date
1996-12-16
First Use Anywhere Date
1987-09-01
First Use In Commerce Date
1987-09-01
Correspondences
Address
Please log in with your Justia account to see this address.
Trademark Events
| | |
| --- | --- |
| Event Date | Event Description |
| 1989-09-21 | ASSIGNED TO EXAMINER |
| 1989-10-13 | EXAMINER'S AMENDMENT MAILED |
| 1989-10-26 | ALLOWANCE/COUNT WITHDRAWN |
| 1989-11-24 | NON-FINAL ACTION MAILED |
| 1989-11-30 | CORRESPONDENCE RECEIVED IN LAW OFFICE |
| 1990-01-04 | ALLOWANCE/COUNT WITHDRAWN |
| 1990-01-04 | APPROVED FOR PUB - PRINCIPAL REGISTER |
| 1990-02-17 | NOTICE OF PUBLICATION |
| 1990-03-20 | PUBLISHED FOR OPPOSITION |
| 1990-06-12 | REGISTERED-PRINCIPAL REGISTER |
| 1996-12-16 | CANCELLED SEC. 8 (6-YR) |