FORTE - Trademark Details
Status: 710 - Cancelled - Section 8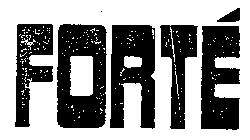 Registration Number
1592638
Status
710 - Cancelled - Section 8
Registration Number
1592638
Registration Date
1990-04-24
Mark Drawing
3R15 - Illustration: Drawing or design which also includes word(s)/ letter(s)/number(s) 150% Enlargement
Design Searches
260512, 260521 - Triangles with bars, bands and lines. Triangles that are completely or partially shaded.
Published for Opposition Date
1990-01-30
Law Office Assigned Location Code
570
Employee Name
WHITAKER, LAURIE
Statements
Certificate of Correction for Registration
IN THE STATEMENT, COLUMN 1, LINE 20, "OR" SHOULD BE DELETED AND "FOR" SHOULD BE INSERTED.
Goods and Services
CHEMICAL ADDITIVES FOR USE WITH INTERNAL COMBUSTION ENGINE FUELS, ANTIFREEZE FOR MOTOR VEHICLES; DETERGENT ADDITIVES FOR USE WITH MOTOR OIL; MOTOR OIL ADDITIVES; AUTOMOTIVE COOLING SYSTEM RUST INHIBITERS; AUTOMOBILE COOLING SYSTEM LEAK SEALANTS; TRANSMISSION FLUID FOR MOTOR VEHICLES; RADIATOR FLUSH
Goods and Services
CARBURETOR AND CHOKE CLEANING PREPARATIONS; CLEANING PREPARATIONS [ OR ] * FOR *MOTOR VEHICLES; DEGREASING PREPARATIONS FOR MOTOR VEHICLE ENGINES; [ PAINT AND VARNISH STRIPPING OR REMOVING PREPARATIONS; ] POLYMER SEALANT FOR CLEANING, SHINING AND PROTECTING AUTOMOBILE EXTERIOR SURFACES; [ RUST REMOVING PREPARATIONS FOR MOTOR VEHICLES; ] AUTOMOBILE WAX
Goods and Services
AUTOMOBILE LUBRICANT AND LUBRICATION GREASE [ ; MOTOR OIL; DIESEL FUEL; GASOLINE ]
Goods and Services
CHEMICAL COMPOSITIONS FOR REPAIRING LEAKS
Classification Information
Correspondences
Address
Please log in with your Justia account to see this address.
Trademark Events
| | |
| --- | --- |
| Event Date | Event Description |
| 1989-06-12 | ASSIGNED TO EXAMINER |
| 1989-08-05 | NON-FINAL ACTION MAILED |
| 1989-10-16 | CORRESPONDENCE RECEIVED IN LAW OFFICE |
| 1989-10-16 | CORRESPONDENCE RECEIVED IN LAW OFFICE |
| 1989-11-03 | APPROVED FOR PUB - PRINCIPAL REGISTER |
| 1989-10-16 | CORRESPONDENCE RECEIVED IN LAW OFFICE |
| 1989-12-30 | NOTICE OF PUBLICATION |
| 1990-01-30 | PUBLISHED FOR OPPOSITION |
| 1990-04-24 | REGISTERED-PRINCIPAL REGISTER |
| 1990-06-18 | SEC 7 REQUEST FILED |
| 1990-09-07 | CERTIFICATE OF CORRECTION ISSUED |
| 1996-04-24 | REGISTERED - SEC. 8 (6-YR) & SEC. 15 FILED |
| 1996-07-26 | REGISTERED - SEC. 8 (6-YR) ACCEPTED & SEC. 15 ACK. |
| 2000-04-11 | POST REGISTRATION ACTION CORRECTION |
| 2000-04-21 | REGISTERED - COMBINED SECTION 8 (10-YR) & SEC. 9 FILED |
| 2000-07-07 | REGISTERED - COMBINED SECTION 8 (10-YR) & SEC. 9 FILED |
| 2001-05-29 | REGISTERED - SEC. 8 (10-YR) ACCEPTED/SEC. 9 GRANTED |
| 2001-05-29 | REGISTERED AND RENEWED (FIRST RENEWAL - 10 YRS) |
| 2008-06-04 | AUTOMATIC UPDATE OF ASSIGNMENT OF OWNERSHIP |
| 2008-12-17 | CASE FILE IN TICRS |
| 2011-02-24 | CANCELLED SEC. 8 (10-YR) |
| 2011-03-11 | TEAS CHANGE OF CORRESPONDENCE RECEIVED |