RAD REEBOK ADVANCED DESIGN SKATEBOARD BMX - Trademark Details
Status: 710 - Cancelled - Section 8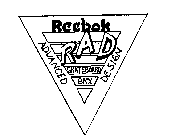 Registration Number
1518067
Word Mark
RAD REEBOK ADVANCED DESIGN SKATEBOARD BMX
Status
710 - Cancelled - Section 8
Registration Number
1518067
Registration Date
1988-12-27
Mark Drawing
3S21 - Illustration: Drawing or design which also includes word(s)/ letter(s)/number(s) 75% Reduction
Design Searches
240502, 260512, 260520, 260521 - Seals having some other shape. Triangles with bars, bands and lines. Triangles inside other triangles. Triangles that are completely or partially shaded.
Published for Opposition Date
1988-10-04
Law Office Assigned Location Code
550
Statements
Disclaimer with Predetermined Text
"SKATEBOARD", "BMX" AND "ADVANCED DESIGN"
Goods and Services
ATHLETIC FOOTWEAR
Lining/Stippling Statement
THE STIPPLING IN THE MARK ON THE DRAWING IS FOR SHADING PURPOSES ONLY.
Classification Information
International Class
025
- Clothing, footwear, headgear. - Clothing, footwear, headgear.
Class Status Code
2 - Sec. 8 - Entire Registration
Class Status Date
1995-07-03
First Use Anywhere Date
1987-09-17
First Use In Commerce Date
1987-09-17
Correspondences
Address
Please log in with your Justia account to see this address.
Prior Registrations
| | |
| --- | --- |
| Relationship Type | Reel Number |
| Prior Registration | 1133704 |
| Prior Registration | 1390793 |
Trademark Events
| | |
| --- | --- |
| Event Date | Event Description |
| 1988-03-29 | ASSIGNED TO EXAMINER |
| 1988-04-18 | EXAMINER'S AMENDMENT MAILED |
| 1988-04-27 | ALLOWANCE/COUNT WITHDRAWN |
| 1988-04-29 | NON-FINAL ACTION MAILED |
| 1988-05-19 | CORRESPONDENCE RECEIVED IN LAW OFFICE |
| 1988-06-29 | ALLOWANCE/COUNT WITHDRAWN |
| 1988-06-30 | EXAMINERS AMENDMENT MAILED |
| 1988-07-07 | APPROVED FOR PUB - PRINCIPAL REGISTER |
| 1988-09-03 | NOTICE OF PUBLICATION |
| 1988-10-04 | PUBLISHED FOR OPPOSITION |
| 1988-12-27 | REGISTERED-PRINCIPAL REGISTER |
| 1995-07-03 | CANCELLED SEC. 8 (6-YR) |