DEER BRAND - Trademark Details
Status: 710 - Cancelled - Section 8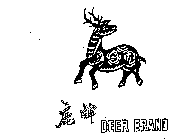 Registration Number
1477750
Status
710 - Cancelled - Section 8
Registration Number
1477750
Registration Date
1988-02-23
Mark Drawing
3S19 - Illustration: Drawing or design which also includes word(s)/ letter(s)/number(s) 75% Reduction
Design Searches
030707, 280103 - Deer, elk, reindeer, fawns, antelopes, moose, gazelles. Inscriptions in Chinese, Japanese, Korean, Vietnamese or other Asian characters.
Published for Opposition Date
1987-12-01
Law Office Assigned Location Code
550
Statements
Certificate of Correction for Registration
IN THE STATEMENT, COLUMN 1, LINE 4, AFTER "ROAD", ", E.1" SHOULD BE INSERTED.
Disclaimer with Predetermined Text
"BRAND"
Translation of Words in Mark
THE ENGLISH TRANSLATION OF THE CHINESE CHARACTERS IN THE MARK IS "DEER BRAND".
Classification Information
International Class
023
- Yarns and threads, for textile use. - Yarns and threads, for textile use.
Class Status Code
2 - Sec. 8 - Entire Registration
Class Status Date
2008-11-28
First Use Anywhere Date
1987-01-01
First Use In Commerce Date
1987-01-01
Correspondences
Address
Please log in with your Justia account to see this address.
Foreign Application Information
| | | | |
| --- | --- | --- | --- |
| Filing Date | Application Number | Country | Foreign Priority Claim In |
| 0000-00-00 | | China P.Rep. | False |
Trademark Events
| | |
| --- | --- |
| Event Date | Event Description |
| 1987-09-14 | EXAMINER'S AMENDMENT MAILED |
| 1987-09-17 | APPROVED FOR PUB - PRINCIPAL REGISTER |
| 1987-10-31 | NOTICE OF PUBLICATION |
| 1987-12-01 | PUBLISHED FOR OPPOSITION |
| 1988-02-23 | REGISTERED-PRINCIPAL REGISTER |
| 1988-07-28 | SEC 7 REQUEST FILED |
| 1988-09-01 | CERTIFICATE OF CORRECTION ISSUED |
| 1993-07-07 | REGISTERED - SEC. 8 (6-YR) & SEC. 15 FILED |
| 1993-11-09 | POST REGISTRATION ACTION MAILED - SEC. 8 & 15 |
| 1993-12-23 | RESPONSE RECEIVED TO POST REG. ACTION |
| 1994-03-22 | POST REGISTRATION ACTION MAILED - SEC. 8 & 15 |
| 1994-10-19 | RESPONSE RECEIVED TO POST REG. ACTION |
| 1994-11-17 | REGISTERED - SEC. 8 (6-YR) ACCEPTED & SEC. 15 ACK. |
| 2007-04-27 | CASE FILE IN TICRS |
| 2008-11-28 | CANCELLED SEC. 8 (10-YR)/EXPIRED SECTION 9 |