HOTEL & RESTAURANT EMPLOYEES AND BARTENDERS INTERNATIONAL UNION HRE AFFILIATED WITH AFL-CO RECOGNIZES THIS MOTEL AS A UNION MOTEL AND WORTHY OF THE SUPPORT OF ORGANIZED LABOR ORGANIZED 1891 - Trademark Details
Status: 710 - Cancelled - Section 8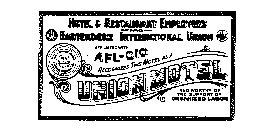 Registration Number
1484834
Word Mark
HOTEL & RESTAURANT EMPLOYEES AND BARTENDERS INTERNATIONAL UNION HRE AFFILIATED WITH AFL-CO RECOGNIZES THIS MOTEL AS A UNION MOTEL AND WORTHY OF THE SUPPORT OF ORGANIZED LABOR ORGANIZED 1891
Status
710 - Cancelled - Section 8
Registration Number
1484834
Registration Date
1988-04-12
Mark Drawing
3T13 - Illustration: Drawing or design which also includes word(s)/ letter(s)/number(s) 50% Reduction
Design Searches
021107, 031501, 031519, 240501, 260118, 261102, 261713 - Hands, fingers and arms. Eagles. Birds or bats in flight or with outspread wings. Circular or elliptical seals. Three or more concentric circles. Plain single line rectangles. Letters or words underlined and/or overlined by one or more strokes or lines.
Published for Opposition Date
1988-01-19
Law Office Assigned Location Code
540
Statements
Certification Mark Statement
THE CERTIFICATION MARK, AS USED BY PERSONS AUTHORIZED BY THE CERTIFIER, CERTIFIES THAT THE LABOR USED IN RENDERING THE SERVICES, WAS LABOR PERFORMED BY MEMBERS OF THE CERTIFYING UNION.
Disclaimer with Predetermined Text
"UNION", "AFFILIATED WITH AFL-CIO", "ORGANIZED 1891", "AFL-CIO", "RECOGNIZES THIS MOTEL AS A UNION MOTEL AND WORTHY OF THE SUPPORT OF ORGANIZED LABOR"
Description of Mark
THE MARK CONSISTS IN PART OF A CIRCULAR SEAL SHOWING TWO HANDS AND THE WORDS "HOTEL & RESTAURANT EMPLOYEES & BARTENDERS INTERNATIONAL UNION, ORGANIZED 1891 AFL-CIO".
Goods and Services
MOTEL SERVICES AND RESTAURANT SERVICES
Lining/Stippling Statement
THE LINING IN THE MARK IS FOR SHADING PURPOSES ONLY AND DOES NOT INDICATE COLOR.
Classification Information
International Class
B
- Services Certification Mark. - Services Certification Mark.
Class Status Code
2 - Sec. 8 - Entire Registration
Class Status Date
2009-01-17
First Use Anywhere Date
1958-00-00
First Use In Commerce Date
1958-00-00
Correspondences
Address
Please log in with your Justia account to see this address.
Prior Registrations
| | |
| --- | --- |
| Relationship Type | Reel Number |
| Prior Registration | 0818444 |
| Prior Registration | 1052687 |
| Prior Registration | 1278395 |
Trademark Events
| | |
| --- | --- |
| Event Date | Event Description |
| 1986-11-05 | ASSIGNED TO EXAMINER |
| 1986-12-09 | ASSIGNED TO EXAMINER |
| 1986-12-09 | ASSIGNED TO EXAMINER |
| 1986-12-19 | EXAMINER'S AMENDMENT MAILED |
| 1987-01-09 | NON-FINAL ACTION MAILED |
| 1987-03-31 | CORRESPONDENCE RECEIVED IN LAW OFFICE |
| 1987-05-20 | NON-FINAL ACTION MAILED |
| 1987-09-24 | CORRESPONDENCE RECEIVED IN LAW OFFICE |
| 1987-10-21 | EXAMINERS AMENDMENT MAILED |
| 1987-10-29 | APPROVED FOR PUB - PRINCIPAL REGISTER |
| 1987-12-18 | NOTICE OF PUBLICATION |
| 1988-01-19 | PUBLISHED FOR OPPOSITION |
| 1988-04-12 | REGISTERED-PRINCIPAL REGISTER |
| 1994-03-25 | REGISTERED - SEC. 8 (6-YR) & SEC. 15 FILED |
| 1994-09-09 | REGISTERED - SEC. 8 (6-YR) ACCEPTED & SEC. 15 ACK. |
| 2006-01-30 | TEAS CHANGE OF CORRESPONDENCE RECEIVED |
| 2007-05-31 | CASE FILE IN TICRS |
| 2009-01-17 | CANCELLED SEC. 8 (10-YR)/EXPIRED SECTION 9 |