MOPPS TOPPS - Trademark Details
Status: 710 - Cancelled - Section 8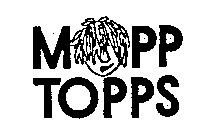 Registration Number
1294429
Status
710 - Cancelled - Section 8
Registration Number
1294429
Registration Date
1984-09-11
Mark Drawing
3R15 - Illustration: Drawing or design which also includes word(s)/ letter(s)/number(s) 150% Enlargement
Design Searches
020101, 020131, 020132, 270302 - Heads, portraits, busts of men not in profile. Stylized men, including men depicted in caricature form. Other men, including frogmen, men wearing space suits and men wearing monocles. Representations of human beings or parts of human beings forming letters or numerals, including punctuation.
Published for Opposition Date
1984-06-19
Law Office Assigned Location Code
550
Statements
Disclaimer
No claim is made to the exclusive right to use the word "Topps", apart from the mark as shown.
Goods and Services
Knit Shirts
Classification Information
International Class
025
- Clothing, footwear, headgear. - Clothing, footwear, headgear.
Class Status Code
2 - Sec. 8 - Entire Registration
Class Status Date
2005-06-18
First Use Anywhere Date
1982-05-14
First Use In Commerce Date
1982-05-14
Correspondences
Address
Please log in with your Justia account to see this address.
Trademark Events
| | |
| --- | --- |
| Event Date | Event Description |
| 1983-02-10 | ASSIGNED TO EXAMINER |
| 1983-08-08 | CORRESPONDENCE RECEIVED IN LAW OFFICE |
| 1983-09-28 | FINAL REFUSAL MAILED |
| 1984-01-20 | CORRESPONDENCE RECEIVED IN LAW OFFICE |
| 1984-02-10 | APPROVED FOR PUB - PRINCIPAL REGISTER |
| 1984-04-23 | NOTICE OF PUBLICATION |
| 1984-06-19 | PUBLISHED FOR OPPOSITION |
| 1984-09-11 | REGISTERED-PRINCIPAL REGISTER |
| 1990-09-07 | REGISTERED - SEC. 8 (6-YR) & SEC. 15 FILED |
| 1990-11-09 | REGISTERED - SEC. 8 (6-YR) ACCEPTED & SEC. 15 ACK. |
| 2005-06-18 | CANCELLED SEC. 8 (10-YR)/EXPIRED SECTION 9 |