KORFUND - Trademark Details
Status: 900 - Expired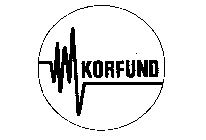 Registration Number
1053204
Registration Number
1053204
Registration Date
1976-11-23
Mark Drawing
3S19 - Illustration: Drawing or design which also includes word(s)/ letter(s)/number(s) 75% Reduction
Design Searches
170725, 260101, 261708, 261710 - Other measuring instruments and markers, including seismographs, Geiger counters and windsocks. Circles as carriers or as single line borders. A single line, band, bar or diagonal. Zig-zag line(s).
Statements
Certificate of Correction for Registration
IN THE STATEMENT, COLUMN 1, LINE 1, "NEW YORK" SHOULD BE DELETED, AND "DELAWARE" SHOULD BE INSERTED.
Goods and Services
METAL ACOUSTICAL PANELS, DOORS AND WINDOWS; METAL AUDIOMETRIC ROOMS; METAL PORTABLE ACOUSTICAL OFFICE ENCLOSURES; METAL ACOUSTICAL BUSINESS MACHINE ENCLOSURES; METAL DUCT NOISE REDUCERS
Goods and Services
ENGINE PRESSURE METERS; SOUND AND VIBRATION METERS
Goods and Services
SURFACE COATING AND FLEXIBLE VINYLS AND FOAMS FOR NOISE AND VIBRATION CONTROL
Goods and Services
ACOUSTICAL CURTAINS MADE OF FIBERGLASS CLOTH COATED WITH VINYL
Classification Information
Correspondences
Address
Please log in with your Justia account to see this address.
Prior Registrations
| | |
| --- | --- |
| Relationship Type | Reel Number |
| Prior Registration | 0705599 |
| Prior Registration | 0706598 |
| Prior Registration | 0716853 |
Trademark Events
| | |
| --- | --- |
| Event Date | Event Description |
| 1982-12-13 | REGISTERED - SEC. 8 (6-YR) ACCEPTED & SEC. 15 ACK. |
| 1996-01-18 | SEC 7 REQUEST FILED |
| 1996-08-01 | CERTIFICATE OF CORRECTION ISSUED |
| 1997-09-01 | EXPIRED SEC. 9 |