ACI BEL-ART - Trademark Details
Status: 710 - Cancelled - Section 8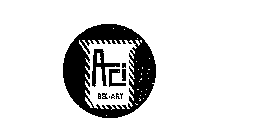 Registration Number
0916526
Status
710 - Cancelled - Section 8
Registration Number
0916526
Registration Date
1971-07-13
Mark Drawing
3000 - Illustration: Drawing or design which also includes word(s)/ letter(s)/number(s) Typeset
Design Searches
240103, 260101, 261102 - Shields or crests with letters, punctuation or inscriptions contained therein or superimposed thereon. Circles as carriers or as single line borders. Plain single line rectangles.
Law Office Assigned Location Code
540
Statements
Indication of Colors claimed
Color is not claimed as a feature of the mark.
Goods and Services
SERVICE OF SELECTING AND APPLYING PROTECTIVE COATINGS TO ARTICLES AND INSTRUMENTS USED FOR SCIENTIFIC AND INDUSTRIAL PURPOSES
Classification Information
International Class
040
- Treatment of materials. - Treatment of materials.
Class Status Code
2 - Sec. 8 - Entire Registration
Class Status Date
2022-01-14
First Use Anywhere Date
1968-02-00
First Use In Commerce Date
1968-02-00
Correspondences
Name
Vanessa A. Ignacio, Esq.
Address
Please log in with your Justia account to see this address.
Trademark Events
| | |
| --- | --- |
| Event Date | Event Description |
| 1977-02-28 | REGISTERED - SEC. 8 (6-YR) ACCEPTED & SEC. 15 ACK. |
| 1991-03-15 | REGISTERED - SEC. 9 FILED/CHECK RECORD FOR SEC. 8 |
| 1991-04-11 | REGISTERED AND RENEWED (FIRST RENEWAL - 10 YRS) |
| 2001-03-15 | REGISTERED - COMBINED SECTION 8 (10-YR) & SEC. 9 FILED |
| 2001-06-16 | REGISTERED - SEC. 8 (10-YR) ACCEPTED/SEC. 9 GRANTED |
| 2001-06-16 | REGISTERED AND RENEWED (FIRST RENEWAL - 10 YRS) |
| 2008-09-17 | CASE FILE IN TICRS |
| 2011-06-22 | TEAS SECTION 8 & 9 RECEIVED |
| 2011-08-11 | CASE ASSIGNED TO POST REGISTRATION PARALEGAL |
| 2011-08-11 | REGISTERED - SEC. 8 (10-YR) ACCEPTED/SEC. 9 GRANTED |
| 2011-08-11 | REGISTERED AND RENEWED (SECOND RENEWAL - 10 YRS) |
| 2013-01-23 | TEAS CHANGE OF OWNER ADDRESS RECEIVED |
| 2013-01-23 | APPLICANT/CORRESPONDENCE CHANGES (NON-RESPONSIVE) ENTERED |
| 2016-01-27 | ASSIGNMENT OF OWNERSHIP NOT UPDATED AUTOMATICALLY |
| 2018-12-05 | TEAS REVOKE/APP/CHANGE ADDR OF ATTY/DOM REP RECEIVED |
| 2018-12-05 | ATTORNEY/DOM.REP.REVOKED AND/OR APPOINTED |
| 2020-02-05 | TEAS WITHDRAWAL OF ATTORNEY RECEIVED-FIRM RETAINS |
| 2020-02-05 | REVIEW OF CORRESPONDENCE COMPLETE - POWER OF ATTORNEY ENTERED |
| 2020-07-13 | COURTESY REMINDER - SEC. 8 (10-YR)/SEC. 9 E-MAILED |
| 2021-01-19 | TEAS CHANGE OF OWNER ADDRESS RECEIVED |
| 2021-01-19 | TEAS REVOKE/APP/CHANGE ADDR OF ATTY/DOM REP RECEIVED |
| 2021-01-19 | ATTORNEY/DOM.REP.REVOKED AND/OR APPOINTED |
| 2021-01-19 | TEAS CHANGE OF CORRESPONDENCE RECEIVED |
| 2021-01-19 | APPLICANT/CORRESPONDENCE CHANGES (NON-RESPONSIVE) ENTERED |
| 2022-01-14 | CANCELLED SEC. 8 (10-YR)/EXPIRED SECTION 9 |