KNIT AND RELAX - Trademark Details
Status: 900 - Expired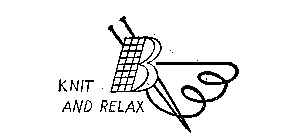 Registration Number
0798853
Registration Number
0798853
Registration Date
1965-11-16
Mark Drawing
3T15 - Illustration: Drawing or design which also includes word(s)/ letter(s)/number(s) 50% Reduction
Design Searches
090101, 090901, 250302 - Thread and wool (wound or unwound), including thread on spools and skeins of yarn. Needles, pins, crochet hooks, knitting needles. Backgrounds covered with other squares or rectangles.
Statements
Disclaimer
APPLICANT HEREBY DISCLAIMS ITS RIGHTS IN AND TO THE WORDS "KNIT AND RELAX".
Goods and Services
KNITTING YARN
Classification Information
International Class
023
- Yarns and threads, for textile use. - Yarns and threads, for textile use.
Class Status Code
9 - Expired
Class Status Date
2006-08-19
First Use Anywhere Date
1963-03-15
First Use In Commerce Date
1963-03-15
Correspondences
Name
BOYD, MacCRELLISH & WHEELER
Address
Please log in with your Justia account to see this address.
Trademark Events
| | |
| --- | --- |
| Event Date | Event Description |
| 1985-04-08 | REGISTERED - SEC. 9 FILED/CHECK RECORD FOR SEC. 8 |
| 1985-08-08 | POST REGISTRATION ACTION MAILED - SEC. 9 |
| 1985-11-16 | REGISTERED AND RENEWED (FIRST RENEWAL - 20 YRS) |
| 2006-08-19 | CANCELLED SEC. 8 (10-YR)/EXPIRED SECTION 9 |