Image Trademark with Serial Number 72219165
Status:
900 - Expired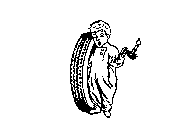 900 - Expired
2S17 - Illustration: Drawing or design without any word(s)/letter(s)/ number(s) 75% Reduction
020505, 130101, 181101 - Boy(s). Candles, candlesticks, candelabra, menorahs. Tires, inner tubes, tire marks, snow chains.
Statements
[RADIATOR ANTI-FREEZE AND MOTOR COOLANT, GAS LINE ANTI-FREEZE]
[SHOCK ABSORBERS FOR VEHICLES]
[VEHICLE HEADLIGHTS, BATTERIES, DRY CELLS, SPARK PLUGS]
[MUFFLERS FOR VEHICLE MOTORS]
AIR FILTERS FOR VEHICLE MOTORS AND OIL FILTERS FOR VEHICLE MOTORS
[ BELTS FOR VEHICLES, HOSE FOR VEHICLES, AND ] VEHICLE TIRES
Classification Information
Correspondences
Please log in with your Justia account to see this address.
Prior Registrations
Prior Registration
0098502
Prior Registration
0518612
Trademark Events
1986-03-21
REGISTERED - SEC. 9 FILED/CHECK RECORD FOR SEC. 8
1986-04-05
REGISTERED AND RENEWED (FIRST RENEWAL - 20 YRS)
2007-01-13
CANCELLED SEC. 8 (10-YR)/EXPIRED SECTION 9